Jones H. Flournoy House, Independence, Missouri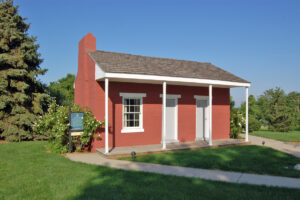 There is an extant house in Independence, Missouri that has historical significance to students of the history of The Church of Jesus Christ of Latter-day Saints. Built in 1826, the house was owned by Jones H. Flournoy, a Missouri landowner and businessman. It was part of Flournoy's  holdings which included the Temple Lot Property and site for the city of Zion that was to be established in Jackson County. Under the direction of the Prophet Joseph Smith, Bishop Edward Partridge purchased the 63.27-acre Temple Lot from Flournoy in December 1831. The Prophet Joseph may have met with Flournoy in the house while negotiating for the property during his visit to Missouri in July 1831
In 1838, before the hearings at Richmond and incarceration in Liberty Jail, Joseph Smith dined in this home, which was then owned by Gen. Moses Wilson. Wilson's wife, Margaret Ann Wilson, was bothered to see Joseph Smith and the other prisoners in chains. General Wilson noted: "[Joseph Smith] was a remarkable man. I carried him into my house, a prisoner in chains, and in less than two hours my wife loved him better than she did me."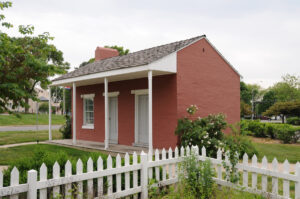 Following the expulsion of the Latter-day Saints from Jackson County in 1833, the little home subsequently served as a schoolhouse. In 1862 it found itself in the middle of a Civil War battle. Many years later, the house was scheduled for demolition to allow the paving for a parking lot. Concerned about the loss of one of the oldest homes in Missouri, some locals intervened and moved the house from its original location to its present site, a distance of about four city blocks.
Map and Directions
Ownership Status
The Jones H. Flournoy home is owned and maintained by Community of Christ. Situated in the Restoration Heritage Plaza near the Temple and Auditorium, it may be viewed by all at any time without charge. It does not open for views of the interior.
Photos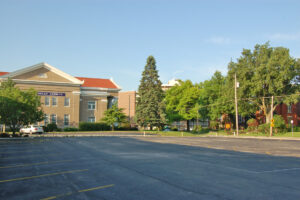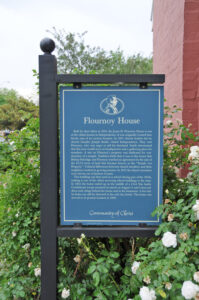 Articles & Resources
Resources
Max H Parkin, in LaMar C. Berrett, ed., Sacred Places, Vol 4., 37-39.
Richard O. Cowan, in Arnold K. Garr and Clark V. Johnson, eds., Regional Studies in Latter-day Saint History: Missouri, 138-144.