Richard E. Turley Jr.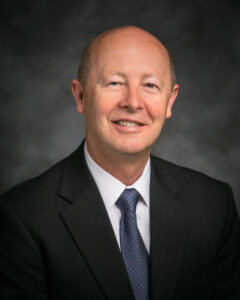 Richard E. Turley Jr. retired in March 2020 as Managing Director of the Church Communication Department of The Church of Jesus Christ of Latter-day Saints. He served previously as Managing Director of the Public Affairs Department, the Church Historical Department, the Family History Department, and the combined Family and Church History Department. He also served as Assistant Church Historian and Recorder. An innovator by nature, he helped oversee the creation of the four-volume history Saints: The Story of the Church of Jesus Christ in the Latter Days, the launch of FamilySearch and FamilySearch Indexing, the building of the new Church History Library, the development of the Joseph Smith Papers, and the formation of the Church Historian's Press. He acquired key books, documents, and artifacts for the Church's historical collections, including the 1829 Printer's Manuscript of the Book of Mormon. He also served for many years on the Church's Historic Sites Committee.
He has authored or edited numerous books and articles on Latter-day Saint and Western U.S. history, including Massacre at Mountain Meadows: An American Tragedy; Victims: The LDS Church and the Mark Hofmann Case; How We Got the Book of Mormon; and How We Got the Doctrine and Covenants.  He was the general editor for The Journals of George Q. Cannon print volumes, as well as coeditor of the series Women of Faith in the Latter Days.
Mr. Turley received a bachelor's degree in English from Brigham Young University, where he was a Spencer W. Kimball Scholar. He later graduated from the J. Reuben Clark Law School at BYU, where he served as executive editor of the law review, was elected to the Order of the Coif, and received the Hugh B. Brown Barrister's Award, given to the student who demonstrates the highest standards of classroom performance.