Junius F. Wells Award - 2007: M. Russell Ballard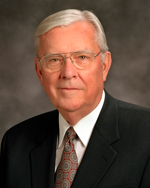 Elder M. Russell Ballard, a member of the Quorum of Twelve Apostles of the Church of Jesus Christ of Latter-day Saints, was honored at a special banquet, Friday, October 12, 2007. Elder Ballard was presented the Junius F. Wells Award from the Mormon Historic Sites Foundation for his years of work and service to preserve sites of historical significance in Mormon history.
A number of general church leaders attended the event including, Elders L. Tom Perry and Joseph B. Wirthlin of the Council of the Twelve; Julie B. Beck, general president of the Relief Society; and Susan W. Tanner, general president of the Young Women. Following the dinner a video presentation was shown that highlighted the various historical projects Elder Ballard has been involved in including Ensign Peak; the restored village at Kirtland, Ohio; This is the place Heritage Park; the Smith Family Cemetery adjacent to the Joseph Smith Homestead in Nauvoo; Illinois, two monuments erected to the ancestors of Joseph Smith in Topsfield, Massachusetts; and the 1997 Sesquicentennial Celebration of the 1847 pioneer trek to Utah.
Photos
Articles & Resources
Elder M. Russell Ballard was called to be a member of the Quorum of the Twelve Apostles of The Church of Jesus Christ of Latter-day Saints on October 6, 1985.
He was born in Salt Lake City, Utah, on October 8, 1928, to Melvin R. and Geraldine Smith Ballard. He attended the University of Utah.
As a young man, he served as a counselor to the president of the British Mission. He has been a bishop twice and a high councilor in two stakes.
In 1974, he was called as president of the Canada Toronto Mission, where he was serving when called to the First Quorum of the Seventy in April of 1976. He served as a member of the Presidency of the Seventy from February 1980 to October 1985.
Prior to his call as a General Authority, Elder Ballard had interests in the automotive, real estate, and investment businesses. He has served on many church and civic committees and boards.
He married Barbara Bowen in the Salt Lake Temple on August 28, 1951. They have two sons and five daughters.
"LDS historic sites group honors Elder Ballard," Deseret News, October 13, 2007, by Elizabeth Stuart