Junius F. Wells Award - 2010: Florence Smith Jacobsen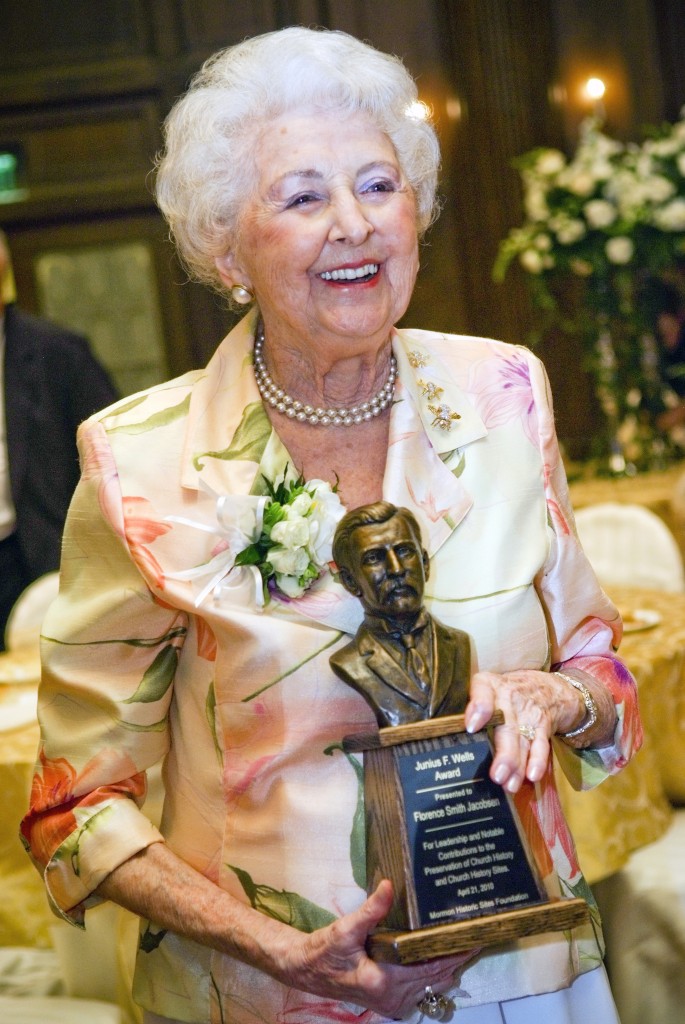 The Mormon Historic Sites Foundation was proud to present its annual Junius F. Wells Award for 2010 to Florence Smith Jacobsen. The presentation was made April 21, 2010 at the Joseph Smith Memorial Building in Salt Lake City.
Special guests and speakers to honor Sister Jacobsen were President Thomas S. Monson and President Boyd K. Packer. In addition there were several family and friends as well civic, community, and church leaders in attendance. The evening included a musical performance by Todd Miller singing Sister Jacobsen's favorite musical numbers. As a special tribute a musical selection was commissioned by the MHSF and was composed, written, and sung by Gaye Beeson, a former member of the Tabernacle Choir. Under the direction of Kenneth Mays, a video presentation was also created and presented on the life and accomplishments of Sister Jacobsen in preserving important historical sites and building, all adding to the rich Mormon heritage.
Photos
Articles & Resources
Florence Smith Jacobsen has a proud heritage. Her paternal and maternal grandfathers, Joseph F. Smith and Heber J. Grant respectively, served as successive Presidents of The Church of Jesus Christ of Latter-day Saints. Sister Jacobsen's remarkable ninety-seven year history began in 1913. A loving and remarkable partnership developed in 1935 when she married Ted Jacobsen. Their home was blessed with three sons, Stephen S. Jacobsen, Alan S. Jacobson (deceased), and Heber S. Jacobsen. Sister Jacobsen is a lady in love with excellence. Excellence is a passion that has given purpose and radiance to her life.
Sister Jacobsen served as General President of the YWMIA for twelve years beginning in 1961. Following her release she was called successively as Church Curator, Director of the Church Arts and Sites Division, and Director of the Museum of Church History and Art. Her love of Church history and love of family developed simultaneously. She remembers during restoration of the home of her great-grandmother, Mary Fielding Smith, having feelings of being in awe of the little widow who had built the house alone, aided only by her children, young Joseph F. Smith, Martha Ann, and stepson John. "How could you help loving someone with that much courage!" Sister Jacobsen exclaimed.
Sister Jacobsen courageously moved through life knowing that the price of excellence meant rejecting a great deal of contemporary culture, "particularly the pressure to hurry." It meant evaluating and reevaluating. It meant constant study. Sometimes it involved the difficult and unpopular duty of criticism. But, Sister Jacobsen continues to feel that the rewards are worth it. Sister Jacobsen's philosophy is, "If you're going to produce anything beautiful—a beautiful dinner, a beautiful building, a beautiful life—it's going to take time." She adds with a twinkle, "And you'll have to accept an unpleasant fact: after the fun of preparing the dinner and the pleasure of sharing it with friends, there are dishes to do."
Sister Jacobsen believes that excellence makes a difference; "by treating myself and others as worthy of the best that is possible, I find that people become better. And I feel that this principle carries over into every area, including the way we dress. By making our environment as beautiful and as excellent as possible, we become a more excellent people, mentally, visually, physically, and spiritually." Sister Jacobsen is being honored because of her gift of excellence and courage to walk forward in faith preserving Mormon history and historical sites for generations to come.
Quotes taken from an article in the 1977 June Ensign
TRIBUTE TO FLORENCE SMITH JACOBSEN
Words and Music by Gaye Beeson
To be somebody who can make a difference
To be somebody who can lead the way
You must… be somebody who puts others first
And sees the best when others see the worst!
To be the someone who can plan ahead
To be the someone who takes time
To ask for help and listen to advice
Then work together, being twice as nice
It takes a certain kind of person, who's not afraid to say,
"We have a situation here, and I know a better way."
If you're that certain kind of person to step up to the plate
Then the things you say, and the things you do, will always motivate!
To see the beauty, when its not in view
To see the oldness and restore it anew
You must. . . see potential and the possibilities
To open others' eyes and stretch the boundaries.
Now there's a pattern for getting things done . . .
Communicate, Illuminate, Negotiate, Demonstrate
Appropriate, Instigate, Operate, Evaluate