Wilford C. Wood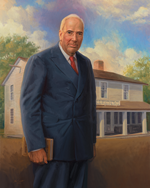 The Mormon Historic Sites Foundation (MHSF) was pleased to honor and recognized the significant accomplishments and contribution of Wilford C. Wood, a leader and early pioneer in recognizing and acquiring significant Mormon historic sites. A banquet in his honor was co-hosted by the MHSF and the LDS Church History Department May 28, 2009 at the Joseph Smith Memorial Building in Salt Lake City, Utah.
In attendance were many Wood family members and Church leaders and historians including Marlin K. Jensen, Church Historian and Recorder and Executive Director of the Church History Department, and Thomas S. Monson, President of the Church of Jesus Christ of Latter-day Saints.
The program, narrated by KSL-TV personality Carole Mikita, included a musical selection by Kenneth Cope, a video presentation on the life and accomplishments of Wilford Wood by Kenneth Mays, and the unveiling of a large portrait commissioned by the MHSF and painted by Ken Corbett. The highlight of the evening was special remarks and a tribute to Brother Wood by President Monson.
Photos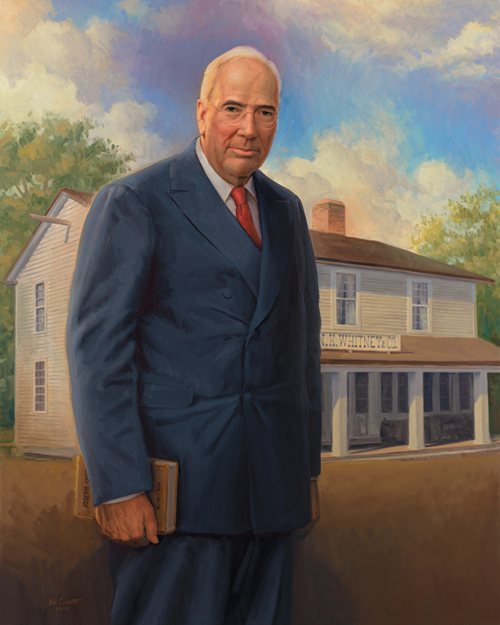 Articles & Resources
Wilford C. Wood was born May 22, 1893 at Woods Cross, Utah. As a young man, Wilford served as a full-time missionary for the Church of Jesus Christ of Latter-day Saints, laboring in the Northern States Mission. The length of his mission was nearly four years. It was during this time that Wilford developed a love for the Book of Mormon and the Prophet Joseph Smith. Wilford once said that he "desired to visit all the places the Prophet Joseph had been." Thus an interest was created in the sites where the story of the Latter-day Saints unfolded. This interest would eventually flourish in a remarkable manner.
Following his mission, Wilford married Lillian Woodbury. They established their home in Bountiful, Utah and raised two daughters, Mary and Leilah. Wilford entered the fur business as his livelihood which on numerous occasions took him across the country to New York City. While traveling he took the opportunity to visit various sites connected to events of Latter-day Saint history. Wilford's desire to visit the places the Prophet Joseph had been grew into a desire to do everything he could to preserve those historical properties. Before these properties could be preserved however, they first had to be acquired. This two-fold interest became his self-appointed mission, a mission he served with striking effectiveness. His bargaining skills, tenacity, and inspiration were crucial to his success. His wife, Lillian, supported his efforts every step of the way and continued on after Wilford's passing in January 1968.
When Wilford Wood began his special work the Church held title to few of the most significant sites associated with its early history. Thanks to Wilford's great efforts, by the time of his death, many more were owned by the Church, including: the Nauvoo Temple site, Liberty Jail, Adam-ondi-Ahman, the Whitney Store, John Johnson Farm, and the Hale property in Harmony, Pennsylvania where the Aaronic Priesthood was restored and the Book of Mormon translation commenced. Additionally, his acquisitions of many historical artifacts, and his publication of Joseph Smith Begins His Work represent important contributions. Latter-day Saints and all who may be interested in Latter-day Saint history owe a profound debt of gratitude to Wilford C. Wood, a man of vision and tenacity.