Junius F. Wells Award - 2011: Richard Lyman Bushman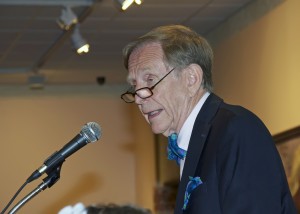 In recognition of his many years of leadership and service to the Mormon historical community, the Mormon Historic Sites Foundation presented its Junius F. Wells Award for 2011 to Richard Lyman Bushman June 18, 2011. The presentation was made at the Springville Art Museum in Springville, Utah. The program included many descriptive tributes to Brother Bushman together with a grand children string quartet providing background music. A melody of 40's and 50's music was performed by Herschel Bullen on the saxophone and Jim Guss guitarist. In attendance was a large gathering from the Mormon history community.
Photos
Articles & Resources
Richard began his studies at Harvard University in 1949, graduating magna cum laude with a bachelor's degree in 1955, after taking time away from school to serve an LDS mission in the New England States and eastern Canada. He continued his schooling at Harvard earning a master's degree in History in 1960, followed in 1961 by his doctoral degree in History in American Civilization.
Richard married Claudia Lauper on August 19, 1955. They are the parents of four sons (Richard, Karl, Serge, and Ben) and two daughters (Clarissa and Margaret). They have twenty grandchildren.
Richard has been a professor at Brigham Young University (1960-63, 1965-66; Brown University (1968-77); Harvard University (1973); University of Delaware (1977-1989); and Columbia University (1989-2008). He is currently the Gouverneur Morris Professor Emeritus of History at Columbia University, specializing in the social and cultural history of the United States. In 2011 Richard completed his tenure as the first Howard W. Hunter Chair of Mormon Studies at Claremont Graduate University.
Richard has been actively engaged in the advancement of Mormon studies throughout his illustrious career, including president of the Mormon History Association (1985-1986), a member of the Board of Editors for the Encyclopedia of Mormonism (1989-91), Chair of the Advisory Committee for the Smith Institute at Brigham Young University (1999-2004), and co-General Editor for the Joseph Smith Papers for the Church History Department (2004-present). His scholarship and love of early Mormonism and specifically the life of Joseph Smith is reflected in his numerous publications.
His 1984 book Joseph Smith and the Beginnings of Mormonism was awarded the History Book Club Selection Award and the David Woolley and Beatrice Cannon Evans Biography Award in 1985. In 2005, Richard authored Joseph Smith: Rough Stone Rolling, which has received wide acclaim and several prestigious awards. Speaking about Rough Stone Rolling, noted author and historian Terryl Givens commented: "Clearly the definitive biography for generations to come, and the most balanced, thorough, and insightful treatment to date, truly a masterful work. The book is wonderfully grounded in its interpretations. It is wise in judgments, penetrating in its analysis, and rich in historical and cultural detail without ever losing sight of its subject. Bushman does full justice to this most complex and influential of all American religious innovators."