Mormon Historical Studies - Spring 2010 | Vol. 11 | No. 1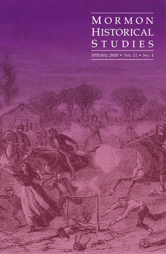 This issue is also available for download.
Click the article title to download the associated PDF file.
Articles
Jacob Hawn and the Hawn's Mill Massacre- Missouri Millwright and Oregon Pioneer – Alexander L. Baugh
Seeking After the Ancient Order: Conferences and Councils in Early Church Governance, 1830–1834 – Joseph F. Darowski
"A Subject That Can Bear Investigation"- Anguish, Faith, and Joseph Smith's Youngest Plural Wife – J. Spencer Fluhman
"They Do Things Differently There"- Understanding a Polygamous "Foreign Country" – Barbara Jones Brown
The Evolution of Treatment of the Latter-day Saint Past – Edward Leo Lyman
Historic Sites
Historical Landscape of the Joseph Smith Birthplace Memorial– Gary L. Boatright Jr.
Documents
Joseph Smith's Introduction to the Law- The 1819 Hurlbut Case – Jeffrey N. Walker
A Historical Note on Joseph Smith's 1836 Visit to the East India Marine Society Museum in Salem, Massachusetts – Alexander L. Baugh
Book Reviews
Days Never to be Forgotten: Oliver Cowdery, Alexander L. Baugh, ed. – Reviewed by Christopher C. Jones
Nauvoo Polygamy: ". . . but we call it celestial marriage" – George D. Smith – Reviewed by Craig L. Foster
Joseph Bates Noble: Polygamy and the Temple Lot Case – David L. Clark – Reviewed by David J. Howlett
On Zion's Mount- Mormons, Indians, and the American Landscape – Jared Farmer – Reviewed by David W. Grua