Mormon Historical Studies - Fall 2000 | Vol. 1 | No. 2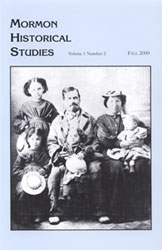 This issue is now also available for download. Click the article title to download the associated PDF file.
Articles
Cover Introduction Contents Editor's Letter Not Your Average French Communist Mormon: A Short History of Louis A. Bertrand "Like the Rose in the Wilderness": The Mormon Mission in the Kingdom of Sardinia Bishop Daniel S. Tuttle: Episcopalian Pioneer among the Mormons Allen Taylor and Early Mormon Emigration Name Index
Historic Sites
Document
A Historical "Address" from Wilford Woodruff to Heber C. Kimball and George A. Smith on the Opening of the City of London to Missionary Work, September 1840
Conversation with Historians
The Historian's Friend: A Conversation with James L. Kimball Jr.
Historic Research Index
Names of Persons and Sureties indebted to the Perpetual Emigrating Fund Company, 1850 to 1877
Book Reviews
Brigham Young: Images of a Mormon Prophet, by Richard Neitzel Holzapfel and R. Q. Shupe – Reviewed by William W. Slaughter Army of Israel, Mormon Battalion Narratives, by David L. Bigler and Will Bagley, eds. – Reviewed by Norma Baldwin Ricketts