Green Plains Historical Marker
The Ensign Peak Foundation (then the Mormon Historic Sites Foundation) helped erect a historical marker in conjunction with the William W. Taylor family and the Illinois State Historical Society. The marker tells the significance of the Green Plains area.
The text of the monument reads as follows: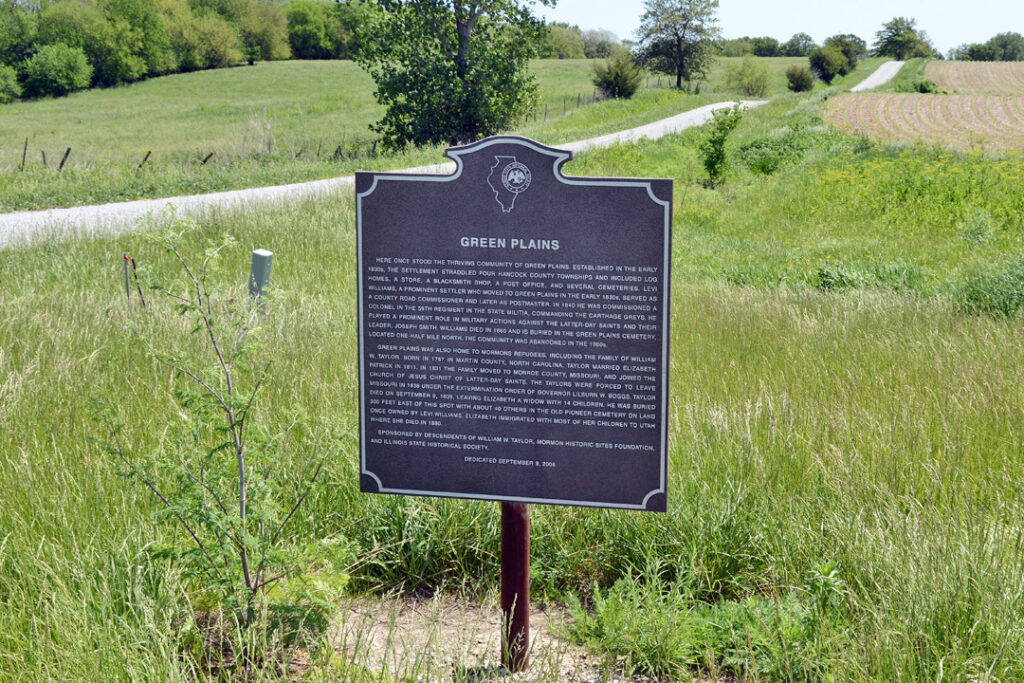 Greens Plains
Here once stood the thriving community of Green Plains. Established in the early 1830s, the settlement straddled four Hancock County townships and included log homes, a store, a blacksmith shop, a post office, and several cemeteries. Levi Williams, a prominent settler who moved to Green Plains in the early 1830s, served as county road commissioner and later as postmaster. In 1840 he was commissioned a colonel in the 59th regiment in the state militia, commanding the Carthage Greys. He played a prominent role in military actions against the Latter-day Saints and their leader, Joseph Smith. Williams died in 1860 and is buried in the Green Plains cemetery, located one-half mile north. The community was abandoned in the 1860s.
Green Plains was also home to Mormon refugees, including the family of William W. Taylor. Born 1787 in Martin County, North Carolina, Taylor married Elizabeth Patrick in 1811. In 1831 the family moved to Monroe County,
Missouri, and joined The Church of Jesus Christ of Latter-day Saints. The Taylors were forced to leave Missouri in 1838 under the extermination order of Governor Lilburn W. Boggs. Taylor died on September 9, 1839, leaving Elizabeth a widow with 14 children. He was buried 300 feet east of this spot with about 40 others in the Old Pioneer Cemetery on land once owned by Levi Williams. Elizabeth emigrated with most of her children to Utah where she died in 1880.
Sponsored by descendants of William W. Taylor, Mormon Historic Sites Foundation, and Illinois State Historical Society.
Dedicated September 9, 2006.
Photos