Lorenzo D. Barnes Grave Site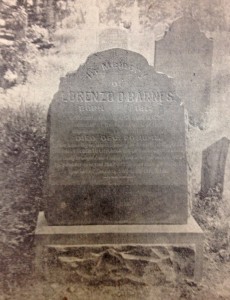 Lorenzo D. Barnes is known as the first missionary of the Church of Jesus Christ of Latter-day Saints to have died in a foreign land.  His death occurred in December 1842 while serving as presiding elder in the Bradford, Yorkshire, England conference.  His remains were interred at Idle, Yorkshire with the following epitaph carved on a stone: In memory of Lorenzo D. Barnes, who died on the 20th of December, 1842, age 30 years. He was a native of the United States, an Elder in the Church of Jesus Christ of Latter-day Saints, a member of the High Priests' quorum and also of Zion's Camp in the year 1834, and the first gospel messenger from Nauvoo who has found a grave in a foreign land.
Lorenzo was born March 22, 1812 in Tolland, Hampden, Massachusetts, the son of Phineas Barnes, a New England farmer.  Three years later the Barnes family moved to Ohio where Lorenzo grew up and became an early enthusiastic Latter-day Saint convert at the age of twenty-one.  He immediately became known for his missionary zeal and service and through perseverance he soon overcame a speech impediment and became a great orator.  He served several missions to the southern and eastern missions, and in the spring of 1835 he was ordained as one of the first Seventy.  In 1841 he was called as one of the early missionaries to England and lingered several weeks with a fever before passing.
Upon hearing of Elder Barnes' death, Joseph Smith made in part the following remarks:  When I heard of the death of our beloved bro Barns it would not have affected me so much if I had the opportunity of burying him in the land of Zion. I believe, those who have buried their friends here their condition is enviable. Look at Joseph in Egypt how he required his friends to bury him in the tomb of his fathers. 
A decade later his remains were exhumed and shipped to Salt Lake City for burial in the Salt Lake City Cemetery.  The Mormon Historic Sites Foundation is working on a needed restoration of the cemetery monument.