"The Frontier Prophet" Statue, Manhattan, New York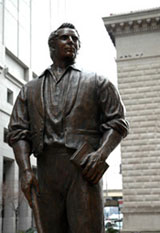 On December 23, 2005, the New York New York Stake of The Church of Jesus Christ of Latter-day Saints, in conjunction with the Mormon Historic Sites Foundation and the City of New York unveiled and dedicated a statue of Joseph Smith entitled, "The Frontier Prophet."
The bronze statue was temporarily located in Old Slip Park in Lower Manhattan near where the Prophet stayed in his visit to New York City in 1832. The old slip was also a departure point for early members of the Church who headed west. Additionally, the statue was located near a plaque about the ship Brooklyn which sailed west in 1846.
Dee Jay Bawden, famed LDS artist, has created the heroic sized statue which will stand eight-feet tall. Joseph stands holding an axe in one hand, characteristic of his rural, New England upbringing, and a book in the other.
The unveiling and dedication took place on the 200th anniversary of the Prophet Joseph Smith's birthday, and the installation remained in Manhattan until June 2006.
Photos
Articles & Resources
Dedicatory Prayer of "The Frontier Prophet"
Joseph Smith statue to be unveiled in Manhattan
Symbolic return to New York
Mormon Prophet Returns to the Seaport