Symposium honors Wilford Woodruff in Connecticut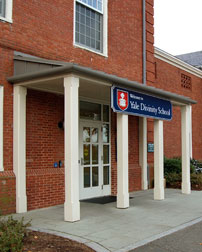 NEW HAVEN, Conn. — As the culmination of a yearlong series of events celebrating the 200th anniversary of his birth in 1807, a symposium on Wilford Woodruff was held at the Yale Divinity School on Nov. 9 and 10, in the state where President Woodruff was born.
Seven current and retired professors from BYU and two prominent members of the Woodruff Family Association gave presentations exploring the life and teachings of this missionary, apostle and fourth president of the Church.
Co-sponsored by the Yale Divinity School, the Mormon Historic Sites Foundation and the BYU Religious Studies Center, the event was held at this historic center of religious learning in New Haven, Conn., because Wilford Woodruff was a native of Connecticut. He was born and lived to the age of 25 in nearby Farmington and Avon. He received an excellent education at the Farmington Academy.
As discussed by Alexander Baugh, associate professor of Church history at BYU and co-chairman of the symposium, the Woodruff family were "seekers" who did not find in the Protestant denominations of their day evidence of the same spiritual gifts and powers nor the same structure of apostles and prophets they saw in the primitive church of Christ's time.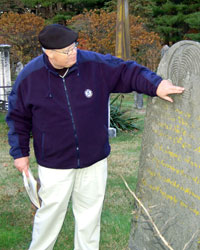 Wilford Woodruff was especially influenced by Robert Mason of nearby Simsbury, Conn., a deeply spiritual and visionary man referred to by his neighbors as "the old prophet Mason." He told young Wilford of a vision he had of walking hungrily through a dying orchard but finding no fruit. Finally, a young tree sprouted from the roots of the dying trees and bore beautiful fruit, but Robert Mason awoke before he could eat it. He believed that the fruit represented "the fruits of the kingdom and church of Christ," but that it did not exist in his generation. He then told Wilford, "I shall never partake of this fruit in the flesh; but you will, and you will become a conspicuous actor in that kingdom." These words deeply affected Wilford, and when he encountered Mormon missionaries years later, he was prepared to accept their message.
While in Connecticut, the visiting presenters and members of the Mormon Historic Sites Foundation board toured some of the local sites associated with the early years of President Woodruff. Led by Earle Stone, a member of the Hartford Connecticut Stake, they visited the birthplace of President Woodruff. There, the foundations of the mill owned by his father are still visible, along with the remains of the mill race. They viewed a monument to President Woodruff carved upon a local red sandstone boulder, which was placed in a public park in Avon, not far from the birthplace. They also visited local cemeteries to see the graves of Robert Mason and those of the parents and grandparents of President Woodruff. The home of Wilford Woodruff's grandparents, which still stands and is occupied today, was also viewed.
By Kristie Guynn
Church News contributor
Photos