Historic Holy Cross Chapel in Salt Lake City
The chapel is a historic treasure in the history of Salt Lake City, particularly its religious history.  The chapel was created as a part of the historic Holy Cross Hospital, first established in 1875 by the Sisters of the Holy Cross – a prominent Roman Catholic women's religious order that founded schools, hospitals, charities, and other institutions in Utah during the 19th century.  The Sisters relocated to this location at South Temple in 1882 and constructed the hospital from 1882-1883 and the chapel from 1901-1904.   This historic hospital and chapel were a major contribution to the heart and life of the city, as the only Catholic hospital in Salt Lake for more than 100 years, and one of two 19th century Catholic churches located in downtown.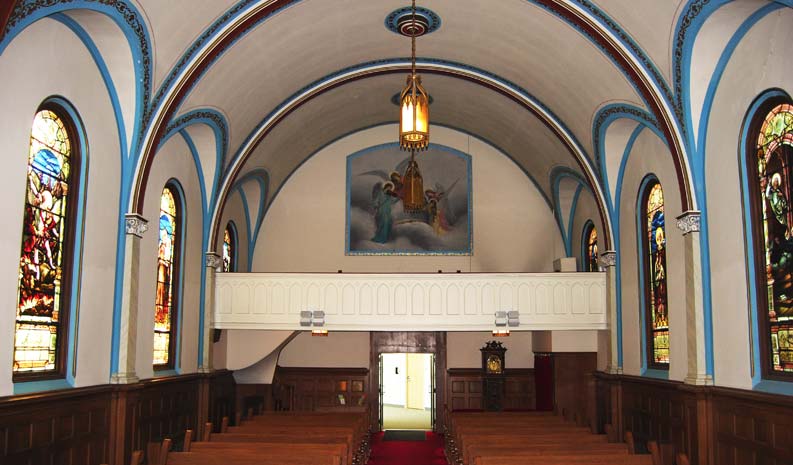 Dedicated on April 14, 1904, the Holy Cross Chapel was built on the north side of the hospital.  In 1909, the chapel interior was painted by Achille Peretti, a New Orleans artist, who painted the gold-leaf designs on the arched ceilings, the Romanesque frescos on the choir loft wall and the Apse ceiling.   The High Altar was carved in white carara marble from Italy and installed in 1904.  Two additional white marble alters were added on both sides of the chapel in 1928, one dedicated to the Blessed Virgin, the other dedicated to St. Joseph.
In 1995, the chapel was decommissioned and became a nondenominational interfaith sanctuary, its sacred Catholic objects were relocated to other catholic churches in the area.  Holy Cross Chapel is the only remaining historic structure from the original Holy Cross Hospital.  In 2010, an antique pump organ (1890s) was donated and sits by the antique clock at the rear of the chapel.  This historic chapel is the oldest existing Catholic church in Utah and remains in continual use since its founding.
Video
Read the full story at KSL.COM
Photos
Articles & Resources
Hospital hoping to renovate 135-year-old chapel
Official Website