Saluda Memorial, Lexington, Missouri (2002, 2004)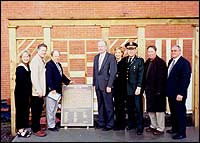 On April 9, 2002, a memorial was presented to the city of Lexington, Missouri commemorating the sesquicentennial of the Saluda steamboat tragedy. Many people were killed, including 28 Latter-day Saint emigrants who were traveling west on the Missouri River headed towards the Salt Lake Valley.
A large group that included descendants of the passengers of the Saluda gathered for the ceremony. Michael L. Hutchings, of the Foundation, and Thomas Brailsford, who represented The Church of Jesus Christ of Latter-day Saints, offered their thanks to the city in remembering the victims of the tragedy.
Mormon Historic Sites Foundation provided a contribution to create a beautiful plaque listing the names of all known victims.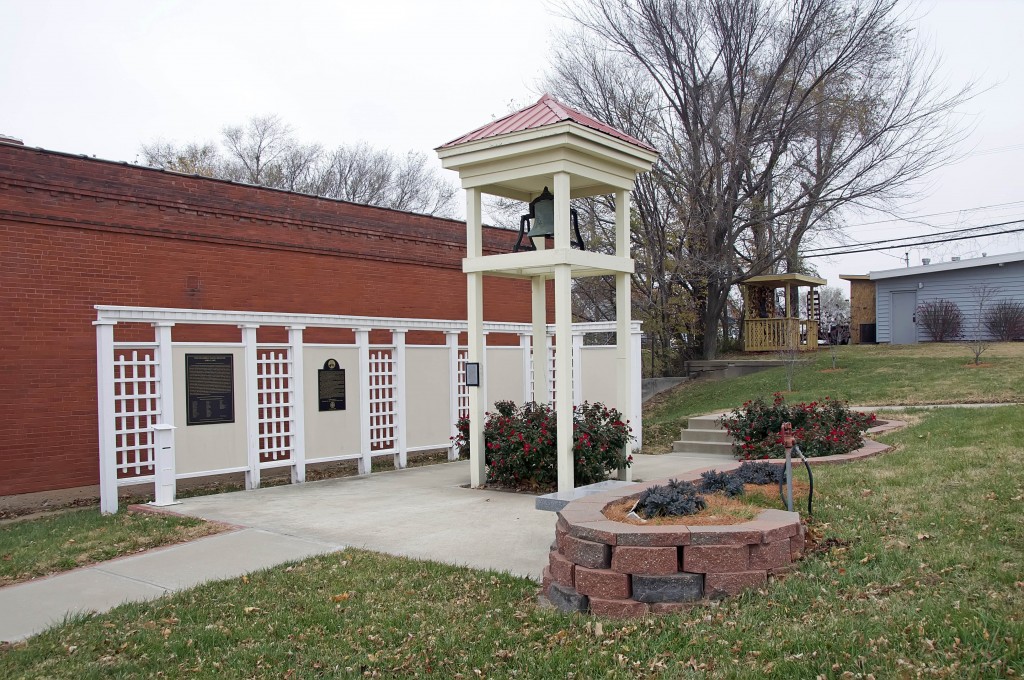 The memorial was erected in a small park specificially donated for the commemoration and is located on the northwest corner of 13th and Franklin Avenues in Lexington. The park is also home to a bell from the same era as the Saluda. During the ceremony, several descendants of Saluda victims took turns ringing the bell in remembrance of their ancestors.
Abraham Smoot, a Mormon emigrant leader who was an eye-witness of the Saluda tragedy spoke of the people of Lexington when he said, "I shall never forget the kindness of the citizens of Lexington in caring for the living and burying the dead… prominent citizens did all they could to comfort and help the afflicted survivors."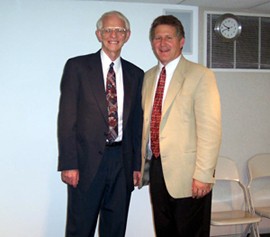 On Friday, June 11th, 2004, Fred E. Woods, executive director of the Foundation and Church History professor, and L. Douglas Smoot, BYU Dean emeritus, Engineering and Technology, and former Area Seventy addressed a group of 150 people at the Liberty Jail. The group was comprised of members of The Church of Jesus Christ of Latter-day Saints, the Community of Christ, and other denominations that joined to hear the inspiring story of the Steamboat Saluda.
Smoot, great-grandson of Abraham O. Smoot, who was appointed to oversee the victims of the tragedy, expressed gratitude to the citizens of Lexington for their compassion shown at the time of the historic event.
Professor Woods emphasized the message that we learn from the Saluda echoes the ideas that "in the essentials let there be unity, in the non-essentials, liberty, and in all things charity."
Fred E. Woods, L. Douglas Smoot, and Michael L. Hutchings spoke to the citizens of Lexington at the Wentworth Military Academy in Lexington, Missouri. Smoot thanked the local citizens assembled for their care of the Saints when this tragedy arose in April 9, 1852.
Professor Woods gave a commentary of the documentary "Fire and Redemption: The Explosion of the Steambot Saluda." He also performed a song on a guitar he borrowed from the Pastor Aubrey Burke, of the First Baptist Church in Lexington, dedicated to the charitable folk of Lexington entitled "Have You Heard of the Saluda?"
Finally, Michael L. Hutchings, secretary and trustee for MHSF spoke about the gratitude he felt and thanked the Lexington local citizens for taking care of his great-great grandmother, Matilda Weisman, who was to be married the morning of the disaster of the Saluda. Michael also presented Roger Slusher, director of the Lexington Museum, with a DVD copy of "Fire and Redemption: The Explosion of the Steamboat Saluda."
Roger expressed his feelings about the event by stating the following in an email dated June 16, 2004 to Fred E. Woods, "Since Sunday I have heard one enthusiastic compliment after another about the film, the comments by you, Doug, and Mike."
Photos
Articles & Resources
Fire & Redemption
Gratitude Goes on for 1852 Kindnesses
Abraham O. Smoot and the Saluda Steamboat Explosion, 9 April 1852
"Don't Go Aboard the Saluda!": William Dunbar, LDS Emigrants, and Disaster on the Missouri
Letter of appreciation from the Mayor of Lexington
Dedication of Saluda Memorial in Lexington, Missouri
Town memorializing 1852 steamboat disaster