Picacho Peak, Pinal County, AZ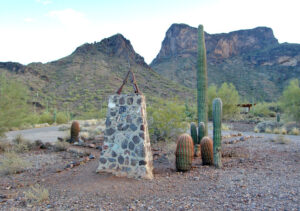 Shortly after leaving Tucson, AZ, the Mormon Battalion passed by the natural landmark known as Picacho Peak on its way to the Pacific Ocean. The highest point of the peak is 3,374 feet above sea level and can be seen from Tucson, some 45 miles away. The stone monument seen at the right is situated near the base of the peak in Picacho Peak State Park. An interpretive plaque on the monument notes that the Mormon Battalion camped there on 17 December 1846. However, a number of historians place the battalion in Tucson on the 17th and assert that it most likely passed Picacho Peak on 20 December.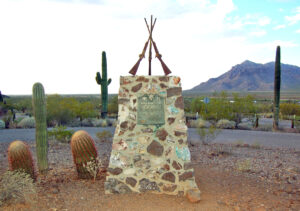 Battalion members and animals were suffering greatly from the lack of good drinking water. They had trudged along, mostly barefoot, for 26 of the previous 36 hours. Military historian Sherman Fleek notes the following comment of battalion leader, Colonel Philip St. George Cook: "I have been mounted thirty-two of the last fifty-two hours; and what with midnight conferences, alarms and marches, have had little rest for five days." Referring to rank and file battalion members, Fleek writes, "On and on they drudged past Picacho Peak, a most stunning rock formation that shot straight up into the sky like a cone."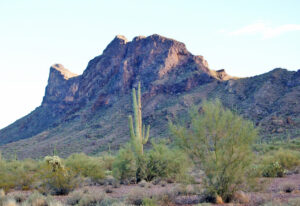 The site, located between Casa Grande, Arizona, and Tucson, Arizona, near Interstate 10 in Pinal County, Arizona, as noted above, is now a state park. The historical marker and interpretive plaque were placed there on 15 May 1937 by members of the Maricopa Arizona Stake in Mesa, Arizona. The plaque notes that the Mormon Battalion had been the first group to unfurl the United States flag in Tucson.
A decade and a half later, Picacho was the site of a skirmish between Confederates and Union troops in what was one of the western-most battles of the American Civil War.
Map and Directions
Ownership Status
Picacho Peak State Park is owned and maintained by Arizona State Parks. It is open year round with the exception of Christmas Day. There is camping and hiking in the park. There is a fee required to get into the park with additional fees for those who wish to camp there. For more information, one can go to: https://azstateparks.com/picacho/.
Photos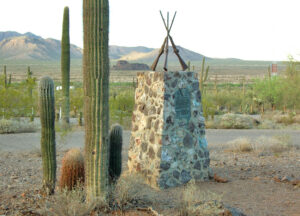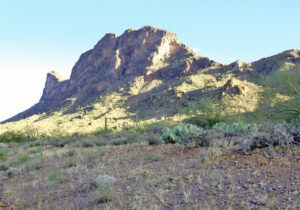 Articles & Resources
Articles and Resources
Sherman L. Fleek, History May Be Searched in Vain: A Military History of the Mormon Battalion, 294.
See map in Norma Baldwin Ricketts, The Mormon Battalion: U. S. Army of the West, 1846-1848, 102.
Stanley B. Kimball, Historic Sites and Markers Along the Mormon and Other Great Western Trails, 223, photo section between pages 192-193.
https://azstateparks.com/picacho/