Adena Mound, Enon, OH - Zion's Camp
On Friday, May 16, 1834, the members of Zion's Camp were approaching  the town of Dayton, Ohio. According to James Bradley, at about 9:00 in the morning they passed "through a thicket of small timber, and their view of what was beyond was blocked." They were close to what is now the town of Enon, Clark County, Ohio. It was there that the Prophet Joseph Smith felt depressed in spirit and commented that they were near a site where there had been much bloodshed. Citing members of the company, Bradley continues: "We soon came out of the timber where a large farm had been cleared, and to the left of the road was a mound sixty feet high, occupying about one acre of ground. We went to the mound and found that holes had been dug in it, which disclosed that it was filled with human bones."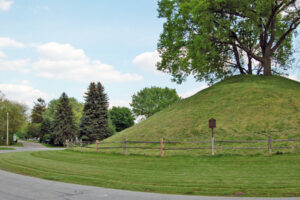 According to Joseph Smith's published history, he said on this occasion, "that whenever a man of God is in a place where many have been killed, he will feel lonesome and unpleasant, ad his spirits will sink." In Enon there is a Native American burial site known as the Adena Mound, one of many such sites in the general region. It is very close to where Joseph had those depressing feelings. The community of Enon, has identified and preserved the site. This canonical mound is the second largest of many other such burial sites in Ohio. It has been estimated in several published sources that the mound was built up over time by Native Americans between 1200 B.C. and 800 A.D.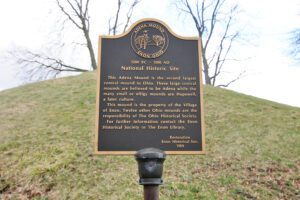 Map and Directions
The street address of the Adena Mound is 400 Mound Circle, Enon, Ohio 45323.
Ownership Status
The mound is located in a residential neighborhood in the town of Enon, Ohio. Signage at the site of the notes that the mound falls under the purview of the Enon Community Historical Society. It is open to the public without charge.
Photos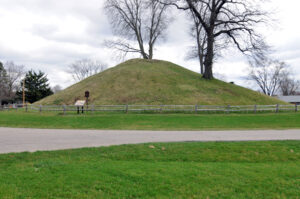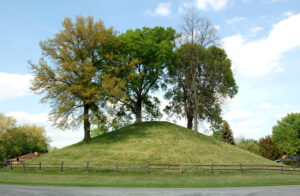 Articles & Resources
Articles and Resources
James Bradley, The Eternal Perspective of Zion's Camp, 71-72.
Keith W. Perkins and Donald Q. Cannon, in LaMar C. Berrett, ed., Sacred Places Volume 3: Ohio and Illinois, 83.
Roger D. Launius, Zion's Camp, 70-71.
Kenneth R. Mays, "On the Road with Zion's Camp: A Photographic Essay of the 1834 Missouri Expedition," Mormon Historical Studies, Spring/Fall 2007, Vol. 8, Nos. 1-2, 58-59.