Grand Falls, Little Colorado River
One of the lesser known stories of faith in LDS history is that called the "Honeymoon Trail." It was so named because a number of the Saints, mostly in Arizona, made the difficult journey through the desert to St. George, Utah. There they could participate in the ordinances of the St. George Temple which was dedicated in 1877. There they could be married or, if they were already married, they could be sealed for eternity or "married for the second time." Hence the reference to honeymoon.
A number of trails from various parts of Arizona and New Mexico converged at Sunset Crossing on the Little Colorado River near present-day Winslow, Arizona. Some considered Sunset then, to be the beginning of the trail. As they journeyed from there, the trail led them near the Grand Falls of the Little Colorado River.
For much of the year there is very little water in the river and the falls, while at other times a vast amount of water pours over the edge creating a spectacular display of force and beauty. When there is sufficient water to flow over the falls it has significant mud and other sediments which influence the appearance of the water. This made using the precious water difficult to use for needed drinking. In addition to finding sufficient drinking water, the greatest logistical challenge of the trip was further west where the trail crossed the Colorado River at Lee's Ferry. The Grand Falls are located in Coconino County on the Navajo Nation near the small community of Leupp, Arizona.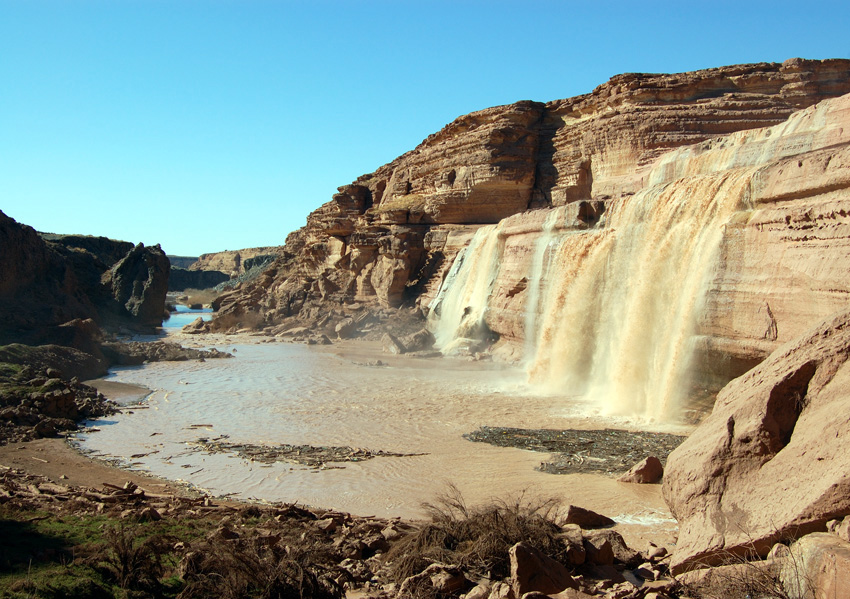 Directions
From Flagstaff, Arizona, take I-40 east to exit (milepost) 225. Most of the drive from here will be on the Navajo Nation. From the freeway, go north on Indian Route 6910, a dirt road. After a number of miles the route crosses the Leupp Road. Do not turn right to Leupp; continue generally heading northward. There will hopefully be a sign or two guiding drivers to the falls. One can also set a gps to the coordinates of the falls which are: 35° 25′ 40.01″ N latitude; 111° 12′ 00.30″ W longitude.
Ownership Status
The Grand Falls are located on and are part of the Navajo Nation, a semi-autonomous Native American territory. The general public is welcome there. Facilities for picnics and day use are available to visitors at no charge. It is assumed that the site will be treated respectfully by all who come.
Photos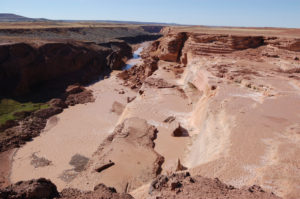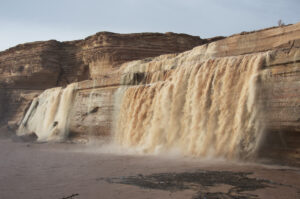 Articles & Resources
Sources
(Norma Baldwin Ricketts, ed., Arizona's Honeymoon Trail and Mormon Wagon Roads.)