Parley P. Pratt Gravesite, Alma, Arkansas, USA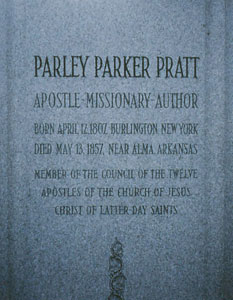 Parley P. Pratt, one of the original members of the Quorum of the Twelve Apostles of this dispensation, was converted to The Church of Jesus Christ of Latter-day Saints after reading the Book of Mormon. He served several missions including a mission to Canada where he taught John Taylor who was eventually converted and later served as President of the Church.
In 1857, while serving a mission to the eastern states, Parley became aware that a man named Hector McLean was following him throughout his journey. McLean was the former husband of one of Parley's wives, Elenor, and blamed Elder Pratt for his estrangement from his former wife. Eventually, McLean found Parley and murdered him him near what is now Alma, Arkansas.
Concerning his death, Brigham Young, a long-time friend of Parley P. Pratt stated that "nothing has happened so hard to reconcile my mind to since the death of Joseph."1 Elder Parley P. Pratt, like Joseph and Hyrum before him, sealed his testimony of the restored gospel of Jesus Christ with his death.
A monument has been erected at the gravesite of Parley P. Pratt and can be visited today.
---
SOURCES
1 Parley P. Pratt, Autobiography of Parley P. Pratt, edited by his son, Parley P. Pratt (Salt Lake City: Deseret Book Co., 1985), xxvii – xxviii.
Map & Directions
Admission: Free