John/George A. Smith House, Nauvoo, IL
This house in Nauvoo, Illinois dates back to the Latter-day Saint period of Nauvoo history. Located on the northwest corner of Parley and Durphy streets across from the Nauvoo State Park, the house is known both as that belonging to John Smith and George A. Smith. John Smith was the brother of Joseph Smith Sr., father of the Prophet Joseph Smith. John was called as president of the stake at Adam-ondi-Ahman, the Zarahemla Stake at Lee County, Iowa, and the Salt Lake Stake. He was endowed in Nauvoo in both the Red Brick Store and again later in the Nauvoo Temple. "Uncle John," as he was known to many, was ordained as Patriarch to the Church on January 1, 1849.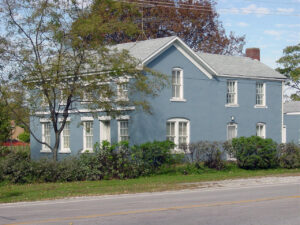 John was the father of George A. Smith, a first cousin to the Prophet Joseph and the youngest man ever to be called as a member of the Quorum of the Twelve (age 21). George A. Smith also served in the First Presidency as a counselor to President Brigham Young. George A. was the grandfather of George Albert Smith, eighth president of the Church. During a critical period in the life of his grandson, George Albert, George A., who had passed away some years before, appeared to him in a dream. He asked of his ill and struggling grandson what he had done with his name. George Albert said that he had never done anything with George A.'s name of which he might be ashamed. Presently, the John/George A. Smith house is privately owned and not open for tours.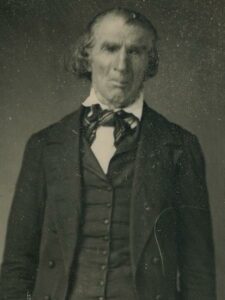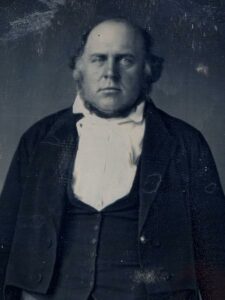 Map and Directions
The John/George A. Smith house is situated on the northwest corner of the intersection of Parley and Durphy (Hwy 96) Streets.
Ownership Status
The home once occupied by John Smith and his son, George A. Smith, is privately owned. It is not open for tours and it is requested that visitors not bother the present occupants in any way.
Photos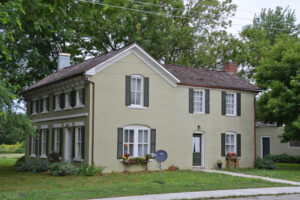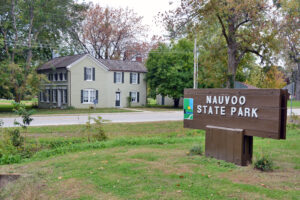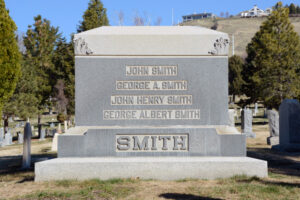 Articles & Resources
Resources
Richard N. Holzapfel and T. Jeffrey Cottle, Old Mormon Nauvoo, 1839-1846: Historic Photographs and Guide, 93-94.
Keith W. Perkins and Donald Q. Cannon, in LaMar C. Berrett, ed., Sacred Places Vol. 3: Ohio and Illinois, 165.
Francis M. Gibbons, George Albert Smith: Kind and Caring Christian, Prophet of God, 69.