Vallecito Stage Station, CA - Mormon Battalion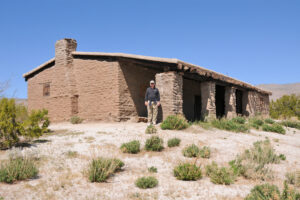 In January 1847 the Mormon Battalion was traversing the formidable Anza-Borego Desert in San Diego County, California. They experienced great suffering because of the challenging terrain and lack of good water. They made their own roads which would later be utilized by  About a decade later, the roads blazed by the battalion became the Great Overland Stage Route, which was subsequently utilized by such entities as the Butterfield Overland Mail company. Butterfield chose a route through Yuma, Arizona and on to the Pacific because the climate allowed travel year round.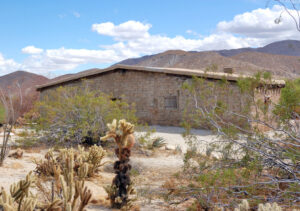 Stations were built every twenty miles. One following the route of the Mormon Battalion can now visit the site of one of those: the rebuilt Vallecito Stage Station on the Butterfield route. It was one such station. It is located near the Vallecito Mountains where, after struggling through harsh desert terrain, the Battalion here found green marshland and much needed water. The Spanish translation of Vallecito is "little valley." The present structure was constructed in 1934, replacing the original station that was built in 1852, five years after the Mormon Battalion blazed the path. An interpretive plaque at the site notes that the Vallecito Stage Station was an important stop on the first official transcontinental route, serving the San Diego-San Antonio mail line (1857-1859), as well as the Butterfield Overland Stage Line and the southern route of emigrant caravans. The preservation of such sites in the area preserves, to a large extent, the original route made by the Mormon Battalion.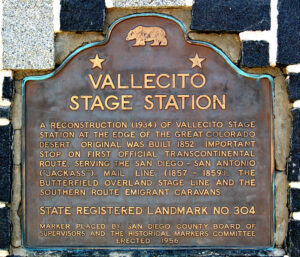 Map and Directions
The formal address of Vallecito Stage Station is: 37349 Great Southern Overland Stage Route of 1849, Julian, CA 92036.
Ownership Status
The rebuilt Vallecito Stage Station in Julian, CA is a county park operated by San Diego Parks (sdparks.org). It is open 24 hours a day year round.
Photos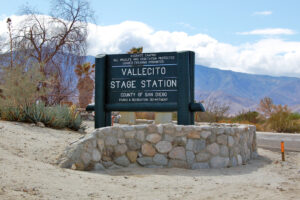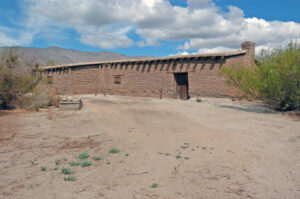 Articles & Resources
Articles and Resources
Sherman L. Fleek, History May Be Searched in Vain: A Military History of the Mormon Battalion, 310.
David L. Bigler and Will Bagley, eds., Army of Israel: Mormon Battalion Narratives, 181.
Interpretive signage at the site of the rebuilt Vallecito Stage Station.