Iowa City, Iowa, Handcart Park
Iowa City, Iowa was the outfitting location for Latter-day Saints heading west between 1856 and 1857, the peak time of the handcart experiment. From Iowa City, several handcart and wagon companies left from Iowa City between 1856-57.1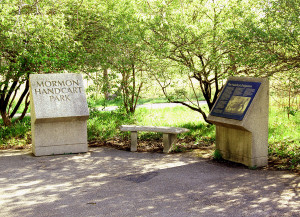 An epistle from the First Presidency to members of The Church of Jesus Christ of Latter-day Saints instructing the Saints to "gather up for Zion, and come while the way is open before them; let the poor also come….let them come on foot, with handcarts or wheelbarrows; let them gird up their loins and walk through, and nothing shall hinder or stay them.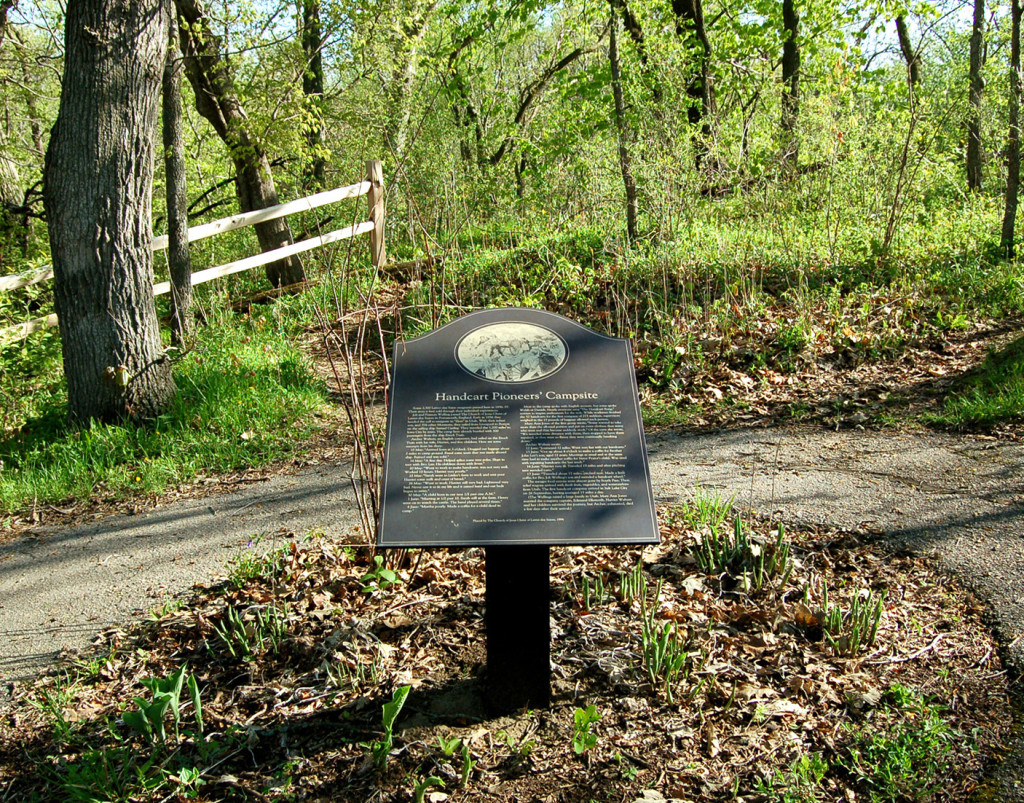 In regard to the foreign emigration another year, let them pursue the northern route from Boston, New York or Philadelphia, and land at Iowa City or the then terminus of the railroad; there let them be provided with handcarts on which to drag their provisions and clothing; then walk and draw them, thereby saving the immense expense every year for teams and outfit for crossing the plains."2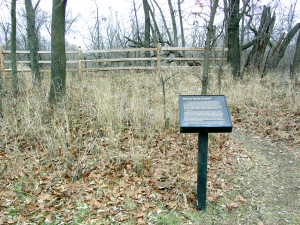 Many converts, who up to this point were unable to obtain sufficient means to emigrate, traveled from Liverpool to the United States at this time. After arriving in America, they then traveled to Iowa City, where they built handcarts, and walked the remainder of the way to Utah. The well-known Willie and Martin handcart companies began their journey from Iowa City. In total, nearly 3,000 individuals traveled to Utah with handcarts in ten companies during the years 1856-60.
Presently, on the border of Coralville and Iowa City, Iowa, there is a beautiful site where flora and fauna remained preserved in their natural state. This site is a cooperative effort between the University of Iowa and the LDS Church in which historical interpretation of the handcart outfitting stations is provided. Accordingly, in addition to lush vegetation and wildlife, interpretive markers keep the story of the handcart Saints alive to all who stroll or jog on the paths of this beautiful site. This can be seen in the images above and below.
Map
Directions: Coming from the north, take I-80 in Iowa to exit 242 to Coralville and Iowa City. Go south on 1st Avenue which is also Hayden Fry Way. Continue south through stoplights at 5th Street and 2nd Street. This road now becomes Mormon Trek Blvd. Continue south through several curves to a stoplight at Hawkeye Park Road. Turn right (west) here and then take an immediate first right turn and drive about a block to the park parking lot. From the south, take highway 218 from Nauvoo and Forth Madison to exit 91 to highway 1. Turn right (east) and then take the first left on Mormon Trek Blvd. continue north about a mile or so to Hawkeye Park Road. Turn left, then the immediate right to the Handcart Park parking lot.
Photos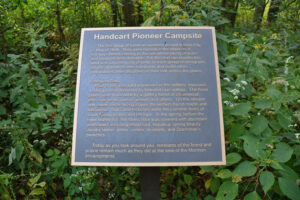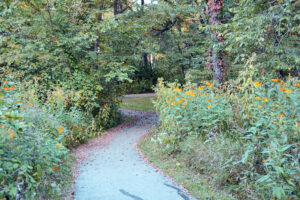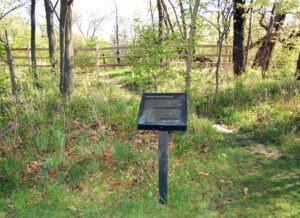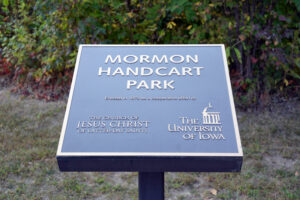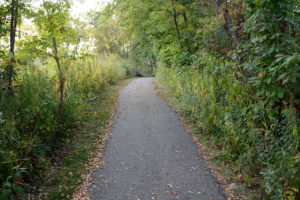 Articles & Resources
William G. Hartley, "Mormons and Early Iowa History (1838-1858): Eight Distinct Connections,"Annals of Iowa, Summer 2000, Vol. 59, 217-260.
Edmund Ellsworth, A Brief Record of the First Handcart Company, Utah Genealogical and Historical Magazine, October 1926-April 1927, Vol. 17-18.
LeRoy R. and Ann W. Hafen, Handcarts to Zion: The Story of a Unique Western Migration, 1856-1860, Lincoln: University of Nebraska, 1960.
Frederick Hansen, The Great Handcart Train from Iowa City to Salt Lake City, Journal of History, October 1916, Vol. 9.
1 Encyclopedia of Latter-day Saint History, eds. Arnold K. Garr, Donald Q. Cannon, & Richard O. Cowan, (Deseret Book Company: Salt Lake City, Utah: 2000), 549.
2 Andrew Jenson, Encyclopedic History of The Church of Jesus Christ of Latter-day Saints (Salt Lake City: Deseret News Publishing Co., 1941), 313.