New Portage (Barberton), Ohio - Zion's Camp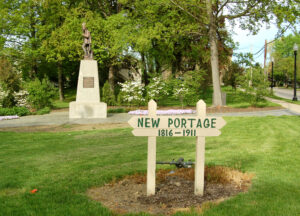 The first members or vanguard company of Zion's Camp (often referred to as the Camp of Israel) left Kirtland, Ohio, on May 1, 1834. They traveled to a site 45-50 miles south of Kirtland. Zion's Camp was recruited and assembled as a result of a divine mandate now recorded in Doctrine and Covenants 103:30-34. The initial group or advance contingent camped at New Portage, now Barberton, Summit County, Ohio.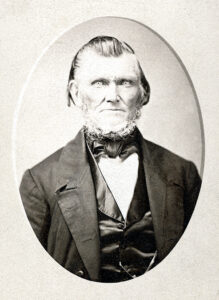 The participants of that first group, including Wilford Woodruff, stayed at New Portage for several nights waiting for the Prophet Joseph Smith and the main company to meet them there. While thus encamped, Brother Woodruff ascended a hill and thanked the Lord for the privilege of living to see some of the tents of Israel pitched and a company gathered by the commandment of God to go up and help to redeem Zion. Joseph Smith and the second contingent joined that first group on May 6. It was there that the Prophet formally organized the camp which, at that time, had about 170 members. James Bradley writes that the men were divided into groups of twelve with a captain. This merging and organizing of the participants essentially made New Portage the beginning point of Zion's Camp or the Camp of Israel. The average age of the group was 29, about the same as the Prophet.
Map and Directions
A park displaying a sign noting that Barberton was once known as New Portage is located on the southwest corner of the intersection of Norton Avenue and North Wooster Road. A second such site is the .25 acre New Portage Cemetery, which has kept the original name of town before it was changed to Barberton. it is located at 800 Wooster Road North in Barberton.
Ownership Status
There are no surviving structures or identifiable sites at New Portage, now Barberton, Ohio. There are several surviving vestiges of the New Portage days located at some public sites. One is a very small park-like site found on the southwest corner of the intersection of Norton Avenue and North Wooster Road in Barberton. This site and the little cemetery listed above are open to the public.
Photos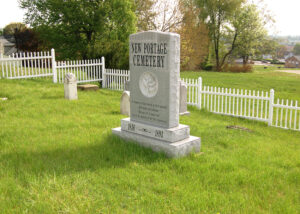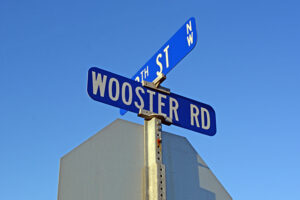 Articles & Resources
Articles and Resources
James L. Bradley, The Eternal Perspective of Zion's Camp, 30-31.
Matthew C. Godfrey, ed., Zion's Camp: 1834 March of Faith, 36-37.
Keith W. Perkins and Donald Q. Cannon, in LaMar C. Berrett, Sacred Places Volume 3: Ohio and Illinois, 81.
Roger D. Launius, Zion's Camp: Expedition to Missouri, 1834, 50-55.
Wilford Woodruff, cited in Matthew Cowley, Wilford Woodruff, 40.)
Kenneth Mays, Picturing History, https://www.deseret.com/2011/8/25/20211429/picturing-history-zion-s-camp-new-portage-ohio.