Jones H. Flournoy House, Independence, MO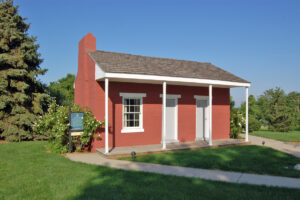 There is an extant house at Independence, Missouri that was once owned by Jones H. Flournoy, a Missouri landowner and businessman. His holdings included what became known as the Temple Lot in Jackson County. Bishop Edward Partridge purchased the 63.27-acre Temple Lot from Flournoy in December 1831. Flournoy sold that parcel of land for the same price he had paid for it. The Prophet Joseph Smith may have met in the house during the negotiations for that property. The plan was to build a complex of temples working toward the day when the site would become Church headquarters and a gathering place for the members.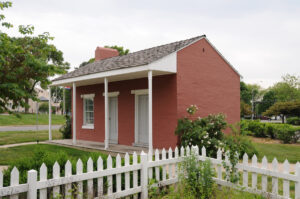 In 1838, before the hearings at Richmond and incarceration in Liberty Jail, Joseph Smith dined in this home which was then owned by General Moses Wilson. Sources note that Wilson lamented: "I carried him into my house, a prisoner in chains and in less than two hours my wife loved [Joseph Smith] better than she did me." Built in 1826, it is now one of the oldest surviving houses In Independence. Originally situated four blocks east of its current location, the little house was set to be torn down to make way for a parking lot. Citizens concerned about the loss of such a historic structure subsequently moved the house from its original site to the site seen here in 1989.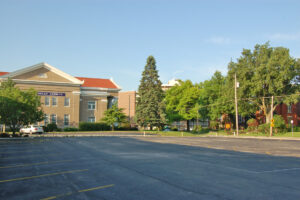 Map and Directions
The Jones H. Flournoy house is presently located at 1034 W. Lexington Street in Independence.
Ownership Status
The Jones H. Flournoy house is part of Heritage Plaza, a site owned and maintained by Community of Christ. The exterior may be viewed anytime without charge.
Photos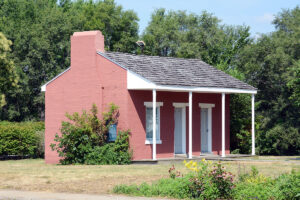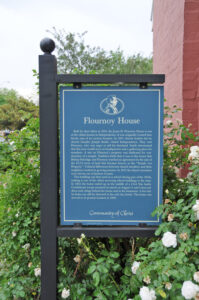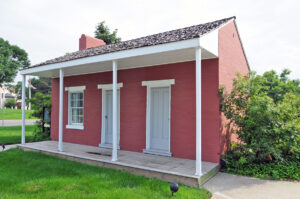 Articles & Resources
Resources
Max H Parkin, in LaMar C. Berrett, ed., Sacred Places Vol. 4, 37-39.
Richard Neitzel Holzapfel and T. Jeffery Cottle, Old Mormon Kirtland and Missouri, 199-200.