St. Michael and All Angels, a Church of England Parish Church
In a series of memoirs entitled Leaves from My Journal, Elder Wilford Woodruff tells the story that occurred when he was preaching at the John Benbow home at Hill Farm near Castle Frome, England. A constable entered and announced that he was sent to arrest Elder Woodruff for preaching illegally. That constable was sent by Rector Henry Fisher, vicar of the local parish church. The constable was invited to take a chair and sit until the end of the sermon and he did so. However, following the conclusion of Elder Woodruff's sermon, rather than arrest Elder Woodruff, the constable requested baptism. He was one of seven individuals to do so at that time. Following this episode, the rector sent two others to learn what was being preached and find out what had happened to the constable. They too were converted and requested baptism. After that, according to Elder Woodruff, the rector did not send anyone else.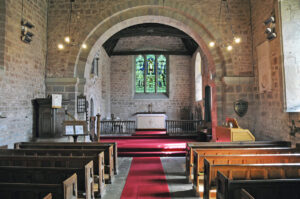 The church from which these three officials were sent is St. Michael and All Angels, a Church of England, parish church. It is located at Castle Frome near the home that was once occupied by the Benbow family. Printed literature at the church notes that this beautiful and historic structure is Norman, built in about 1125, is situated adjacent to a hill that was once a Roman fortress. The original building was renovated by the Victorians in 1878. Of particular historical significance is the baptismal font in the church. Of it, the church's website says: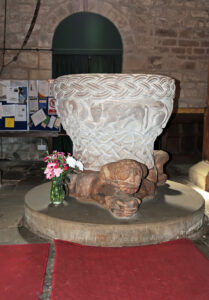 "The main sculptural interest is the magnificent font and dated around 1170. It is the work of the Herefordshire School of carvers. The Font stands on carvings of crouching evil creatures and is meant to represent the power of baptism over evil. Shaped like a chalice it rests on four human figures who appear to be crushed by its weight. Sadly only the head of one figure remains in a good state."
Dr. Louise Manning, owner of the nearby home that once belonged to John Benbow at Hill Farm, presently (2018) serves as a churchwarden in that parish. Dr. Manning is most supportive of those interested in the history of The Church of Jesus Christ of Latter-day Saints, both with its connection with this historic house of worship and the property where she and her family live.
Map and Directions
The formal address of St. Michael and All Angels parish church is: Ledbury HR8 1HQ, United Kingdom.
Ownership Status
St. Michael and All Angels parish church is an official house of worship of the Church of England. The presence of a vicar for Sunday worship is limited because of a rotating schedule in which other church congregations are also served. One is always welcome to join the regular worship services, but one would do well to review the schedule when those services are actually held (see website address below).
Photos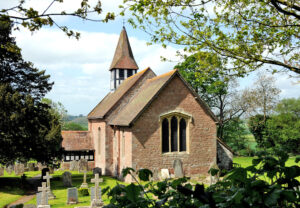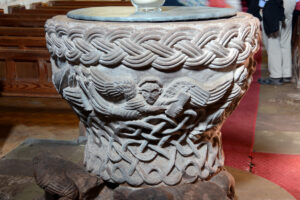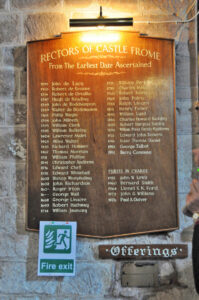 Articles & Resources
Resources
Wilford Woodruff, Leaves from My Journal: A Journey of Faith, 102-104.
Thomas G. Alexander, Things in Heaven and Earth: The Life and Times of Wilford Woodruff, a Mormon Prophet, 93.
V. Ben Bloxham, in V. Ben Bloxham, James R. Moss, Larry C. Porter, Truth Will Prevail: The Rise of The Church of Jesus Christ of Latter-day Saints in the British Isles, 1837-1987, 134-136.
James B. Allen, Ronald K. Esplin, David J. Whittaker, Men With a Mission, 1837-1841: The Quorum of the Twelve Apostles in the British Isles, 124-125.
https://fromenews.wixsite.com/fromevalleychurches/castle-frome