Moyle Park, Alpine, Utah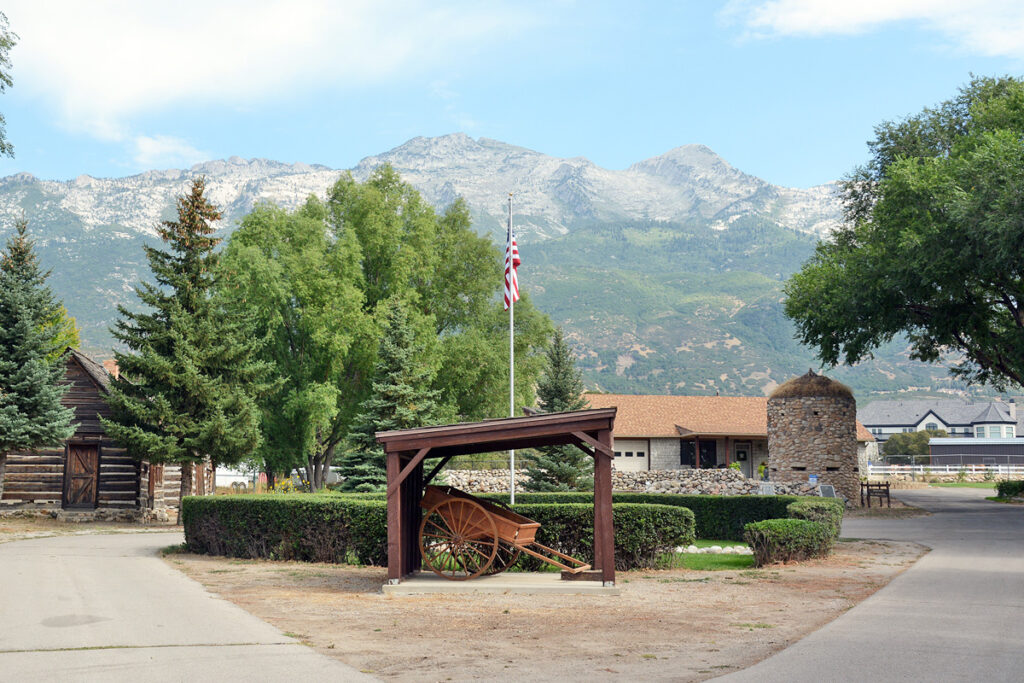 Of all the inspirational stories from early pioneer Utah, one of the most moving is that of John Rowe Moyle. In 1851, he and his wife, Phillippa, joined The Church of Jesus Christ of Latter-day Saints at Millbrook, England. Five years later they sailed to America and walked over one thousand miles across the plains pulling a handcart to Utah.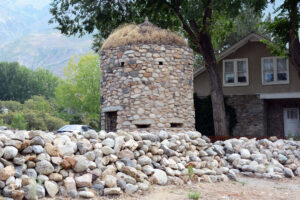 The Moyle family settled in Alpine, Utah County, built a home and worked a farm. John was subsequently asked to be a stonecutter on the Salt Lake Temple, then under construction. Because his only horse was needed on the farm, John walked the twenty-two miles from Alpine to Salt Lake City.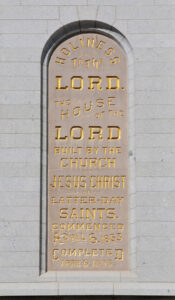 He would walk to Salt Lake City each Monday. During the week he would stay with his son and walk back home on Friday evening. John lost the lower part of one of his legs in an accident. He carved himself a wooden leg with a moveable ankle and began, once again, walking to Salt Lake and back from Alpine. His wooden leg is on display at the Daughters of Utah Pioneers Museum in Salt Lake.
John carved the words "Holiness to the Lord, the House of the Lord" on the center east tower of the temple. He did not live long enough to see the structure completed. Near the stone home on his farm, John built what is called his "Indian Tower." A historical marker on site notes that the tower was the only such structure to have been built to protect a single homestead in Utah. A descendant of John and Phillippa donated the farm and structures to the city of Alpine for use as a public park. This 2-acre park has a museum, restored log structures, the rock tower, and places for games and picnics.
Map and Directions
From I-15 in Lehi, northern Utah County, take the exit for state highway 92. Go east for about five miles and turn left (north) on 5300 West. Proceed to 600 East 770 North in Alpine.
Ownership Status
Moyle Historical Park is one of several parks owned and maintained by the city of Alpine, Utah. The Alpine City website notes the following with regard to Moyle Park:
For tours or reservations
   call (801) 756-1194
– Open May 1 – Sept 30
Photos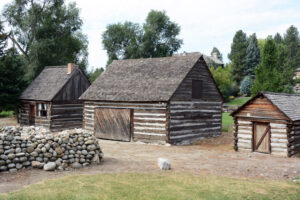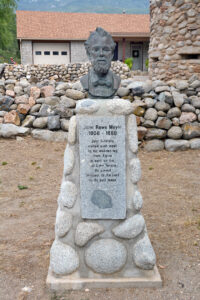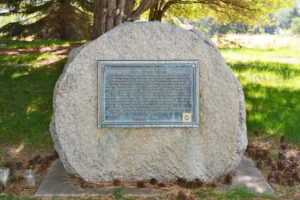 Articles & Resources
Resources
Kenneth Mays, https://www.deseret.com/2017/11/29/20623761/picturing-history-moyle-park-alpine-utah