Rabbit Ear Mountain, Union County, NM
After marching through the Oklahoma panhandle in a southwesterly direction, the Mormon Battalion entered what is now the state of New Mexico. On September 29, 1846, some noted that they could see and were passing a natural landmark known as "Rabbit Ears Buttes." These two closely related peaks could be seen above the flatlands from any directions. They comprised what was one of the best known landmarks on the Santa Fe Trail. Rabbit Ear Mountain, it is said, symbolized the Cimarron Route of the Santa Fe Trail, which the Battalion was still following at this point. This geologic feature is sometimes referred to as the Rabbit Ears or Rabbit Ear Mountain. The site is now a National Historic Landmark.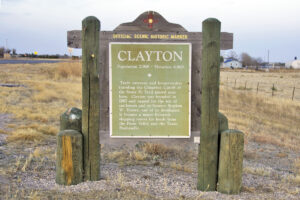 By the time they reached Rabbit Ears, many of the teams and members of the Battalion were failing because of the lack of food and harsh conditions of heat, sand and drought. On the day they passed Rabbit Ears, they traveled until 9:00 pm, hunting food for their animals. Others hunted antelope for battalion members. While doing so, a large ring with a pile of stones in the center was discovered. They continued their journey the next morning, marching another 25 miles.
Map and Directions
In the extreme northeast region of the state of New Mexico is the city of Clayton, Union County. Following state road 370, Rabbit Ear Mountain is about five miles north of Clayton.
Additional information about directions to Rabbit Ear Mountain can be found at: https://newmexico.hometownlocator.com/maps/feature-map,ftc,1,fid,909950,n,rabbit%20ear%20mountain.cfm
Ownership Status
Rabbit Ear Mountain is situated on private property. Those wishing to see it from a view closer than highway 370 would need permission from the owners.
Photos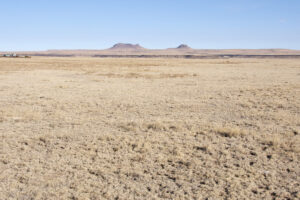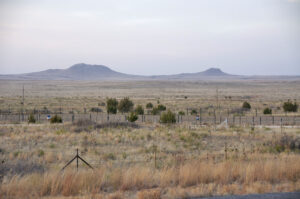 Articles & Resources
Resources and Articles
Norma Baldwin Ricketts, The Mormon Battalion: U. S. Army of the West, 1846-1848, 60.
Sherman L. Fleek, History May Be Searched in Vain: A Military History of the Mormon Battalion, 189-190.