Laie Sugar Plantation, Laie, Hawaii, USA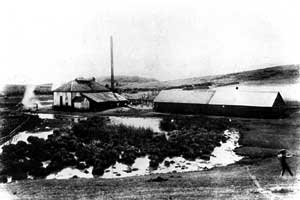 The Laie Sugar Plantation was originally established to help the Hawaiian members of the Church know "how to labor and how to live the principles of the gospel."1
The plans for a second gathering place in the Hawaiian Islands and eventual purchase of the plantation began in 1864 while Joseph F. Smith was serving as mission president in Hawaii. He presented the idea to President Brigham Young. President Young later called Francis A. Hammond and George Nebeker as co-presidents of the Hawaiian mission.
On January 26, 1865 the Church purchased 6,000 acres from Mr. Thomas T. Dougherty.2 A chapel was built on the land and remained until 1915 when the Hawaii Temple was begun and the chapel was moved. Unfortunately, the historic chapel was destroyed by fire in 1940.
Part of the area of the plantation now serves as the location for the beautiful Hawaii Temple, the campus of Brigham Young University-Hawaii and one of the most popular locations in Hawaii for visitors, the Polynesian Culture Center. The area continues to be a location of strength for the Church in sharing the gospel with the people of the world.
---
SOURCES
1 R. Lanier Britsch, Unto the Islands of the Sea: A History of the Latter-day Saints in the Pacific (Salt Lake City: Deseret Book Co., 1986), 126.
2 Ibid.
Map & Directions
Admission: Free