Wilshire Ward Chapel, Los Angeles, California, USA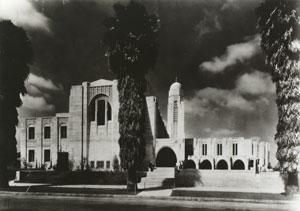 The Wilshire Ward was constructed in the late 1920s in the newly formed Hollywood Stake and was originally referred to as the Hollywood Stake Tabernacle. Contributions of time and money by the local Church members helped erect the structure. President Heber J. Grant dedicated the edifice on April 28, 1929.
President Grant described the structure as "one of the very finest buildings that we have ever erected in any of the stakes of Zion for stake and ward purposes, and I am sure it will give us a very splendid standing in that section of the country. I rejoice in the beauty of the building and in the surroundings, as well as in the great accomplishment there."1
In the early 1970s, the possibility of abandoning the tabernacle was discussed. The neighborhood was beginning to deteriorate and renovations were needed, but the local stake presidency felt that it would be a mistake to abandon the building.
Since that time, the tabernacle has served the diverse population of the area. It was refurbished and renovated in 2003 and rededicated by President Gordon B. Hinckley. It continues to serve the Saints in the Los Angeles area.
---
SOURCES
1 Heber J. Grant, Conference Report, October 1929, 5.
Map & Directions
Admission: Free
Articles & Resources
Mormon Standard of Building by Levi Edgar Young
Author(s): Levi Edgar Young
Type: First-person account
Source(s): Levi Edgar Young, "Mormon Standard of Building," Hollywood Stake Herald, Vol. 1, No. 16, April 1929.
The completion of the Tabernacle at Hollywood marks an epoch in the history of the Church of Jesus Christ of Latter-day Saints in California. Beautiful in its design, and noble in its purpose, it will become a center for the disseminating of information concerning the Gospel of Jesus Christ, and its influence will be felt far beyond the borders of the geographical area of…"
Further Reading
Adele Cannon Howells, "Forward Hollywood," Improvement Era, 1929, Vol. 32, No. 9, July 1929, 752.