Jacob Hamblin Home, Santa Clara, Utah, USA
Jacob Hamblin was born on April 6, 1819 in Salem, Ashtabula County, Ohio to Isaiah and Daphne Haynes Hamblin. He joined the LDS faith on March 3, 1842 and traveled with the Saints west after the completion of the Nauvoo Temple in Illinois.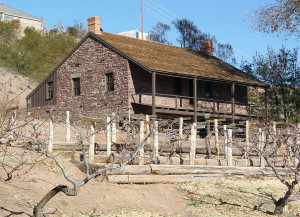 After arriving in Utah, Jacob had a remarkable experience that profoundly affected the rest of his life and the relationship of the Church with the Native Americans. He explains:
"I secreted myself behind a rock in a narrow pass..I had not been there long before an Indian came within a few paces of me. I leveled my rifle on him, and it missed fire. He sent an arrow at me, and it struck my gun..He sent the second, and it passed through my hat; the third barely missed my head; the fourth passed through my coat and vest.
As I could not discharge my gun, I defended myself as well as I could with stones..I afterwards learned.that not one [of our company] was able to discharge his gun when within range of an Indian..It appeared evident to me that a special providence had been over us.to prevent us from shedding the blood of the Indians. The Holy Spirit forcibly impressed me that it was not my calling to shed the blood of the scattered remnant of Israel, but to be a messenger of peace to them. It was also made manifest to me that if I would not thirst for their blood, I should never fall by their hands."1
In 1854, Jacob was called by President Brigham Young to be a missionary to the Paiutes in Southern Utah. A flash flood damaged the fort in Santa Clara, an event that led Jacob to build this home in 1862-63. It served as the home for the Hamblin family for several years.
Jacob Hamblin would serve several missions to the Native Americans and became known as a friend and brother to his Lamanite associates. On December 15, 1876, he was ordained an "apostle to the Lamanites" in St. George by President Brigham Young.2 Jacob Hamblin died in 1886 in New Mexico after having left Santa Clara to serve additional missions to the Native Americans.
The Church of Jesus Christ of Latter-day Saints acquired the property in 1974 and missionaries give presentations at the home about Jacob Hamblin and the home.
---
SOURCES
1 Marlene Bateman Sullivan, "'Friend and Brother': Jacob Hamblin, Man of Peace," Ensign, October 1984, 53.
2 Andrew Jenson, Latter-day Saint Biographical Encyclopedia. 4 vols. 1901-1936. (Reprint, Salt Lake City: Western Epics, 1971), 3:100-101.
Map & Directions
Hours of Operation :
Winter
9:00 A.M. to 5:00 P.M.
Summer
9:00 A.M. to 6:00 P.M.
Phone Number: (435) 673-5181
Admission: Free
Ownership Status
The Jacob Hamblin Home is owned and operated as a Church Historic Site by The Church of Jesus Christ of Latter-day Saints. Tours are available to the public with no admission charge.
Photos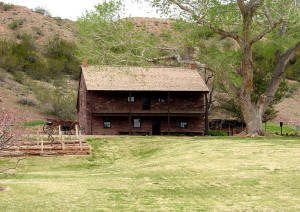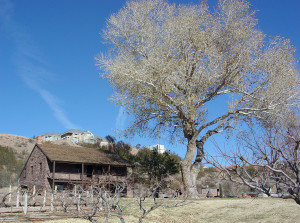 Articles & Resources
Juanita Brooks, "Jacob Hamblin: 'Apostle To the Indians'," Improvement Era, April 1944, Vol. 47, 210-11, 249, 251-55.
Juanita Brooks, Jacob Hamblin: Mormon Apostle to the Indians, (Salt Lake City: Westwater Press, 1980).
Pearson H. Corbett, Jacob Hamblin, the Peacemaker, (Salt Lake City: Deseret Book, 1952).
Charles S. Peterson, "Jacob Hamblin, Apostle to the Lamanites, and the Indian Mission," Journal of Mormon History, 1975, Vol. 2, 21-34.
Marlene Bateman Sullivan, "'Friend and Brother': Jacob Hamblin, Man of Peace,"  Ensign, Oct. 1984, 53.
Louise Lee Udall, "Jacob Hamblin: Story of his Later Years…Death and Burial," Improvement Era, October 1951, Vol. 54, 720-21, 741-45.
Hart Wixom, Hamblin: A Modern Look at the Frontier Life and Legend of Jacob Hamblin, (Springville, UT: Cedar Fort, 1996).