Bloomfield, Davis County, Iowa
Bloomfield, Davis County, Iowa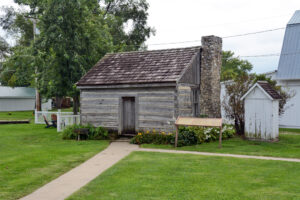 As one follows the route in Iowa taken by Latter-day Saint pioneers in the 1840s, one will come to the town of Bloomfield, seat of Davis County. Situated on the property of the Davis County Historical Society Complex is a cabin built of hand-hewn logs.
Traditionally, it is held that the cabin was built by Latter-day Saint pioneers who were passing by in the 1840s. The society's website notes: "This one-room, walnut log cabin was given by Mr. and Mrs. Tom Harbour of Belknap. The Mormons hand-hewed the logs for the cabin so they could stay here over the winter. The cabin was built around 1848."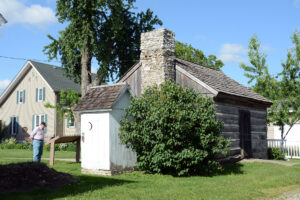 The interpretive panel situated next to the cabin is entitled, "Mormon Craftsmen Leave Legacies Along the Trail." It notes that some Latter-day Saint companies stopped along the way to work for settlers who then paid in "badly needed corn, fodder, pork, or other supplies." Such arrangements made between local settlers and the Latter-day Saint pioneers made the continuation of the Saints' journey west possible.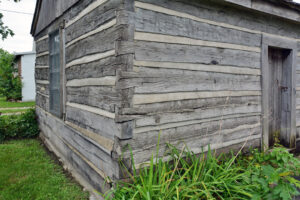 The panel also invites those viewing the cabin to "Notice the craft with which the logs were hewn." Adjacent to the cabin is the large home of Dr. William Findley. Constructed in 1844, that home would have been there when the Latter-day Saint pioneers passed by beginning in 1846.
Map and Directions
The small campus of the Davis County Historical Museum is located two blocks east of U.S. 63 on County Road J40 in Bloomfield.
Ownership Status
The log cabin at Bloomfield, IA is part of the Davis County Historical Society Complex. The exterior as well as the NPS interpretive panel are there for all to see without charge during daylight hours. The interior of the cabin is not available for viewing.
Photos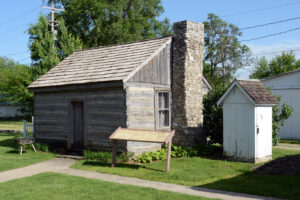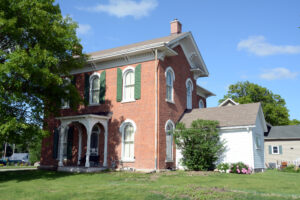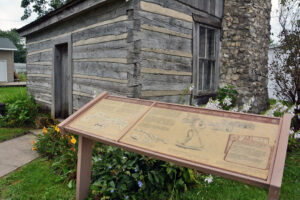 Articles & Resources
Resources
William G. Hartley, A. Gary Anderson, in LaMar C. Berrett, ed., Sacred Places, Vol. 5: Iowa and Nebraska, 51-52.