Mound Grove Cemetery, Independence, Missouri
Located on River Road in Independence, Missouri, the Mound Grove Cemetery is home to several sites of interest to students of Latter-day Saint history. Seen in the image below are the burial sites of two presidents of the Reorganized Church of Jesus Christ of Latter Day Saints, now Community of Christ.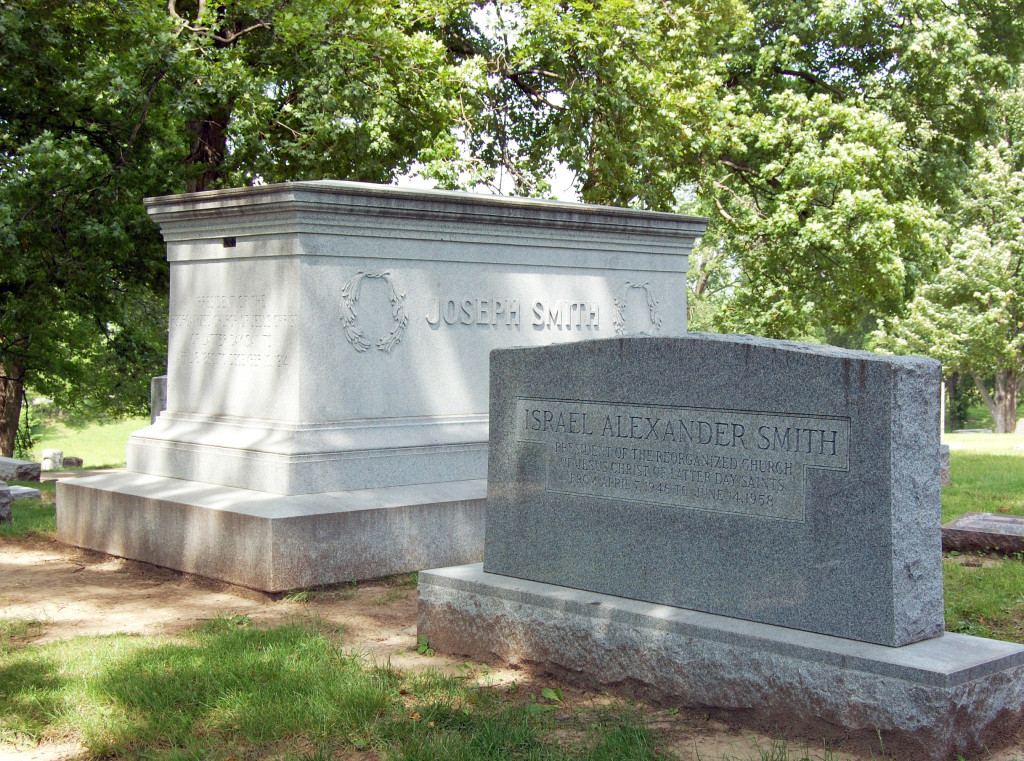 The large vault at the back is the grave of Joseph Smith III, son of Joseph and Emma Hale Smith. Born in Kirtland, Ohio in 1832, President Smith led the Reorganized Church from 1860 to his death in 1914. The headstone in front of Joseph III is that of his son, Israel Alexander Smith, who led the church from 1946 to 1958. Community of Christ, headquartered in Independence, Missouri, has been lead by President Stephen M. Veazey from June 2005 – present.
Seen at the right is a historical marker located in the cemetery. It notes the service of those who marched in the 1834 Camp of Israel or Zion's Camp. The reverse side honors those who died of cholera at Rush Creek, Clay County, MO.
In addition to nearly a dozen members of Zion's Camp who died, several other Latter-day Saints passed away as well. According to Max H Parkin, the skeletal remains of three members of Zion's Camp are buried in the cemetery. Two were male; one was female.
Map & Directions
The Mound Grove Cemetery is located at 1818 N. River Blvd., Independence, MO 64050. The gps coordinates are: 39°06'40.12″ N; 94°25'34.83″ W. The marker is located near gate two, far from the boulevard.
Ownership Status
The Mound Grove Cemetery is one of multiple cemeteries owned and maintained by Charter Funerals. Presently, their website (charterfunerals.com) notes that cemetery hours may vary depending on current circumstances.
Photos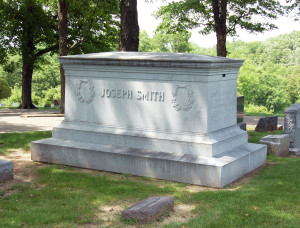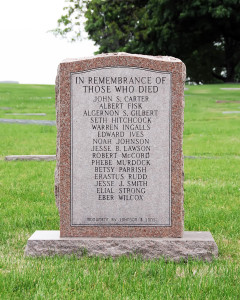 Articles & Resources
Sources
Max H Parkin, in LaMar C. Berrett, ed., Sacred Places, Vol. 4, 72-73.