Kanesville Tabernacle, Council Bluffs, Iowa, USA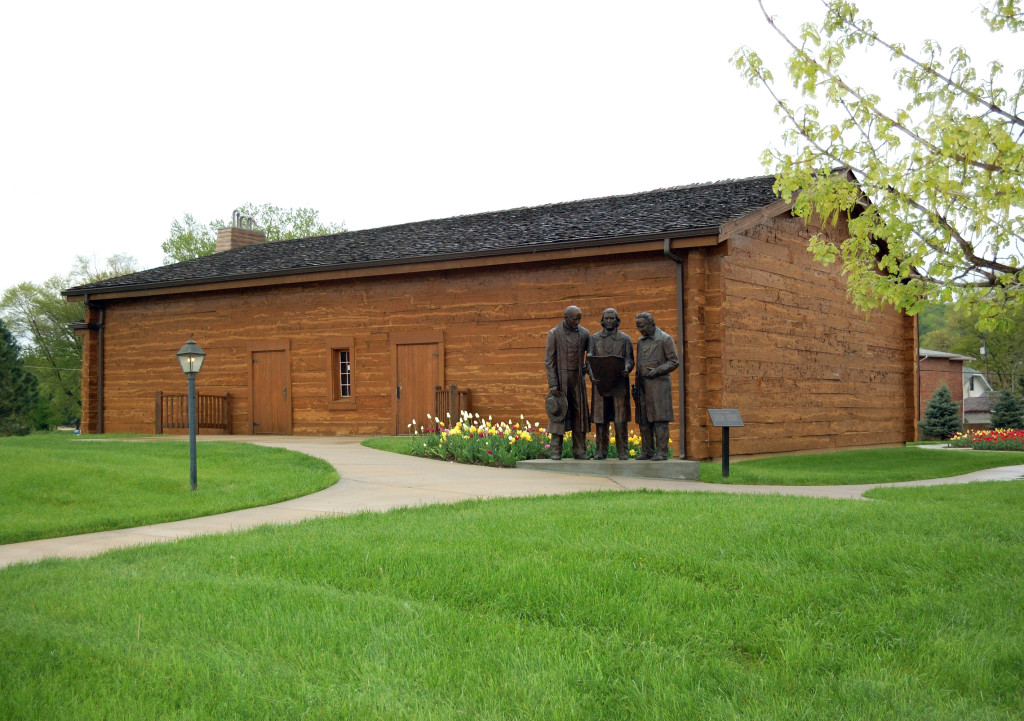 The Kanesville Tabernacle was where Brigham Young was sustained as the second President and Prophet of The Church of Jesus Christ of Latter-day Saints. The tabernacle was constructed for the purpose of housing as many people as possible for a conference in December 1847 to reorganize the First Presidency of the Church. The conference was postponed so that a building large enough could be constructed.
The tabernacle, constructed in three weeks with the help of 200 men, was believed to be the largest log structure in the world.1After its completion, the First Presidency was reorganized, and on December 27, 1847, with over 1,000 people in attendance, Brigham Young was sustained as President and Prophet of the Church. Also, on October 21,1848, upon his return to the Church, Oliver Cowdery spoke to a large number of people gathered at a conference in the tabernacle; he "bore a strong testimony to the authenticity of the Book of Mormon, and declared that an angel conferred the Priesthood on Joseph Smith and himself."2
The original tabernacle was dismantled in 1849 because of damage by the spring runoffs; the current structure is a replica. President Gordon B. Hinckley dedicated the rebuilt Kanesville Tabernacle on July 13, 1996. It now serves as a visitors' center for people to learn about the Saints' migration west to the Salt Lake Valley.
---
SOURCES
1 "Tabernacle of Log Replicated, Dedicated: 'Herculean Task' of First Building Done in 3 Weeks," LDS Church News, July 20, 1996, Z3.
2 Richard E. Bennett, We'll Find the Place: The Mormon Exodus 1846-1848 (Salt Lake City: Deseret Book Co., 1997), 325.
Map & Directions
Address: 222 E. Broadway, Council Bluffs, IA 51503
Phone: (712)322-0500
Hours of Operation:
April 1- September 30: 9:00 AM to 7:00 PM
October 1 – March 31: 10:00 AM to 5:00 PM
Admission: Free
Ownership Status
The Kanesville Tabernacle is owned and operated as a Church Historic Site by The Church of Jesus Christ of Latter-day Saints. Visitors are welcome. The site is staffed by missionary volunteers who serve daily from 9:30 a.m. to dusk. There is no admission charge.
Photos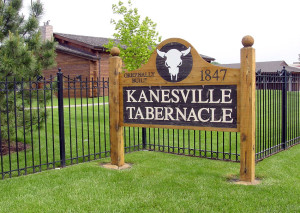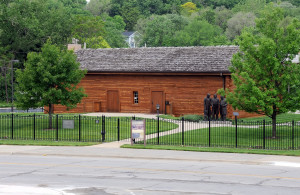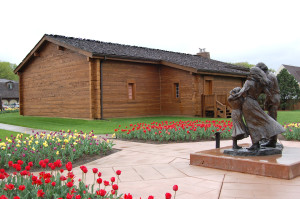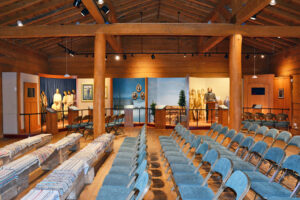 Articles & Resources
Oliver Cowdery's Testimony Given at Kanesville, Iowa
Author(s): Oliver Cowdery
Type: First-person account
Source(s): Brian H. Stuy, ed., Collected Discourses, 5 vols. (Burbank, Calif., and Woodland Hills, Ut.: B.H.S. Publishing, 1987-1992).
Friends and Brethren-My name is Cowdery, Oliver Cowdery. In the early history of this Church I stood identified with her, and one in her councils. True it is that the gifts and callings of God are without repentance; not because I was better then the rest of mankind was I called; but to fulfil the purposes of God, He called me to a high and…
William G. Hartley, "Pushing on to Zion: Kanesville, Iowa, 1846-1853," Ensign, August 2002, Vol. 32, 14-23.
Gail George Holmes, "The First Mormon Tabernacle Is Rebuilt in Kanesville, Iowa," Nauvoo Journal, Fall 1996, Vol. 8, No. 2, 71-73.
Maurine Carr Ward and Fred E. Woods, "The 'Tabernacle Post Office' Petition for the Saints of Kanesville, Iowa," 
 Mormon Historical Studies, Spring 2004, Vol. 5, No. 1, 149-93.