Assembly Hall, Salt Lake City, Utah, USA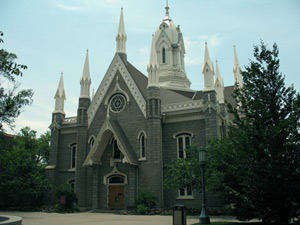 The Assembly Hall on Temple Square was constructed between 1877 and 1880. It was built to provide a more efficient location that could be heated in the winter months. Brigham Young announced the intentions to begin constructing the Assembly Hall at a priesthood meeting of the Salt Lake City stake on August 11, 1877, eighteen days before he died.1
In order to make room for the structure, the Old Tabernacle, originally constructed in 1851-52, was razed. Construction of the Assembly Hall took three years, and every member of The Church of Jesus Christ of Latter-day Saints in the community was asked to contribute at least one-days' work to help with the building costs. The hall was designed by Obed Taylor and features a Gothic Victorian style which was popular at the time of its construction. Stone for the building was obtained from the same quarry used to build the Salt Lake Temple.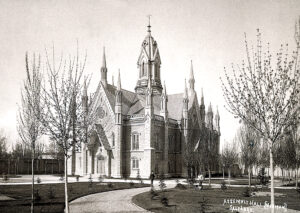 Although the Assembly Hall was completed in 1880, it was not dedicated until 1882 under the direction of President Joseph F. Smith, a member of the First Presidency. Upon its completion, the Assembly Hall became the second permanent structure still standing on Temple Square, the Tabernacle having been finished in 1867. It served as an alternate location for many Church meetings including General Conference of the Church.
A major renovation was undertaken in anticipation of the sesquicentennial anniversary of the establishment of the Church. The renovation included a new roof, replacing the deteriorating spires, refinishing of the pews and flooring, and installing a new pipe organ.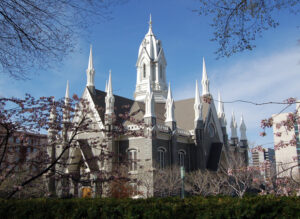 Today, the Assembly Hall serves as an overflow facility for General Conference of the Church and other meetings. It also serves as the primary location for the Temple Square Concert Series held on Friday and Saturday nights throughout the year.
---
SOURCES
1 JoAnn Jolley, "Century-Old Assembly Hall Is Renovated," Ensign, February 1983, 70.
Map & Directions
Hours of Operation: Daily 9:00 A.M. to 9:00 P.M.
Phone: 1-801-240-3318
Admission: Free
Articles & Resources
JoAnn Jolley, "Century-Old Assembly Hall Is Renovated,"
Ensign, February 1983, 70.
Paul H. Peterson, "Accommodating the Saints at General Conference," BYU Studies, 2002, Vol. 41, No. 2, 5-39.