Old Mormon Fort, Las Vegas, Nevada, USA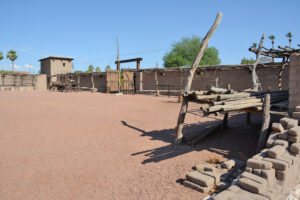 Several settlements were established in the 1850s between Salt Lake City and California along the Mormon Corridor, including the short-lived Mormon Fort in Las Vegas.
In April general conference of 1855, several men were called to "take a mission to Las Vegas to make a settlement and cultivate the Indians."1 Brigham Young selected William Bringhurst to serve as the president of the mission.
The missionaries arrived in present-day Las Vegas on June 14, 1855. Under Bringhurt's direction, they proceeded to build a 150-foot square adobe fort, cultivate crops, build relationships with the Indians, and act as a way station for individuals traveling between California and Salt Lake City. With the initial success of the fort, Brigham Young called a second group of missionaries, including women and children, to the mission.
Work among the Native Americans included aiding them in farming and preaching the gospel. Many were baptized and even some Native Americans were called to serve as missions among their own tribes to preach the gospel.
The discovery of lead ore in the vicinity led to Nathaniel V. Jones being sent to set up a lead mining mission. Conflict of authority arose between Bringhurst and Jones which led to the removal of Bringhurst as mission president and included his disfellowshipment from the Church. In early 1857, due to problems with the natives and discouragement among the brethren, President Young made the decision to close the two missions. In his words he described that "this station becomes an expense to the kingdom, and as at prisent seems, not to add any honey to the hive."2
The Old Las Vegas Mormon Fort is now a state historic park, visited by thousands of people each year.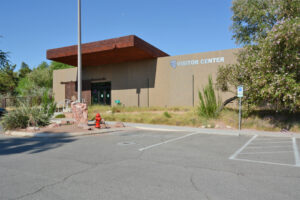 ---
SOURCES
1 Quoted in Fred E. Woods, A Gamble in the Desert: The Mormon Mission in Las Vegas (1855-1857), (Mormon Historic Sites Foundation: Salt Lake City, Utah, 2005), 17.
2 Ibid, 168.
Ownership Status
Old Las Vegas Mormon Fort is a state historic park owned and maintained by Nevada State Parks, a division of the Department of Conservation and Natural Resources. Presently, park hours are Tuesday – Saturday 8 a.m. – 4:30 p.m. (closed Sunday & Monday). There is a $3.00 admission fee to enter the park. Children twelve and under are free.
Map & DIrections
Address: 500 E. Washington Ave.
Las Vegas, NV 89101
Phone: (702) 486-3511
Photos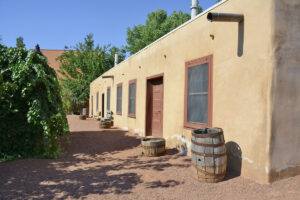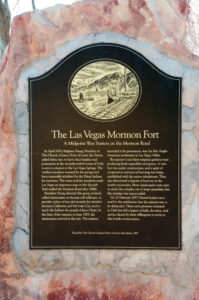 Articles & Resources
James T. S. Allred's Account of Arriving in Las Vegas
Aroet L. Hale's Account of the Healing of a Native American Child
Leonard J. Arrington, "The Mormons in Nevada," Las Vegas Sun (Las Vegas, NV: 1979).
Kate B. Carter, comp., "The Las Vegas Fort," Our Pioneer Heritage, 1975, Vol. 18, 97-136.
Ardis Coffman, The Old Mormon Fort, Nevada, November/December 1979, Vol. 39, 18-20.
Harry C. Dees, ed., "The Journal of George W. Bean: Las Vegas Springs, New Mexico Territory, 1856-57," Nevada Historical Society Quarterly, Fall 1972, Vol. 15, 2-29.
R. Milton Hunter, "The Mormon Corridor," Pacific Historical Review, 1939, Vol. 8, 179-200.
Andrew Jenson, "History of the Las Vegas Mission," Nevada Historical Society Papers, 1925-26, Vol. 5, 119-284.
Florence Lee Jones, The Beginning of Nevada, (Las Vegas, Nevada: 1964), 20-25, 29, 32, 42.
Fred E. Woods, A Gamble in the Desert: The Mormon Mission in Las Vegas (1855-1857), (Mormon Historic Sites Foundation: Salt Lake City, Utah).