Mormon Station State Historic Park, Genoa, Nevada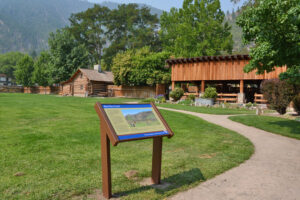 A replica way station or trading post stands at Mormon Station State Historic Park, Genoa, Nevada. The original site was  established by members of The Church of Jesus Christ of Latter-day Saints. Its purpose was to assist those traveling from the east, through the Great Basin, and then on to California. The site is situated right on the western edge of the Great Basin, just several hundred yards from the foothills of the mighty Sierra Nevada. Here travelers could rest themselves and their animals before attempting to cross this mountain range—a physical barrier that was nigh unto overwhelming. A small store allowed travelers to buy or trade for needed goods and supplies before continuing their journey.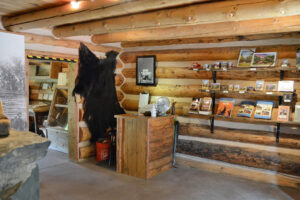 Never a fort affiliated with the United States Army, Mormon Station was initially a small trading station that was more fully established by John Reese, a Latter-day Saint from Utah. He and seventeen others arrived at the site in 1851 with thirteen wagons filled with tradable goods, farm implements and seeds to plant. Upon arrival, Reese and his group built a log structure which served as a trading post and a hotel. The Reese party plowed and planted about 30 acres of crops which were highly valued by travelers who had been without fresh produce during their long time on the trail, perhaps covering a distance of 2,000 miles. It wasn't long before Mormon Station was known as the most important place between California and Salt Lake City.
Before 1854, Mormon Station operated on its own without any sanction of Brigham Young or The Church of Jesus Christ of Latter-day Saints. At that point, Brigham Young appointed Elder Orson Hyde to be probate judge and the presiding Church authority in the Carson Valley area.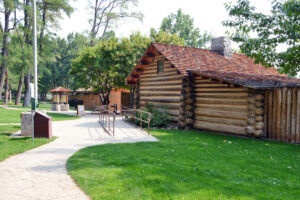 That arrangement ended in 1857 with the so-called "Mormon War" and the coming of Johnston's Army to the Utah Territory. At that time, Latter-day Saints living at Mormon Station were called to Utah to assist with that crisis. Most of those who left experienced financial loss when they disposed of their property and goods they could not take with them. Several years later, Mormon Station served as one of the many Pony Express stations while it operated the period of 1860-1861. After eighteen months, the Pony Express was basically made obsolete by the coming of the telegraph.
Map and Directions
Mormon Station State Historic Park is located at 2295 Main Street, Genoa, Nevada.
Ownership Status
Mormon Stations State Historic Park is owned and maintained by Nevada State Parks. It is open year round without a fee. More information can be found at http://parks.nv.gov/parks/mormon-station. There is a small museum at the park that charges a $1.00 admission fee to help support the exhibits. Hours for the museum are:
May – September: 10 a.m. – 4 p.m., daily
October – April: 11 a.m. – 3 p.m., closed Tuesdays and Wednesdays
Photos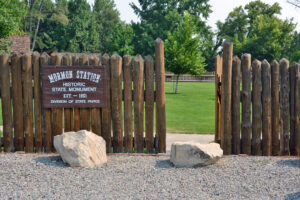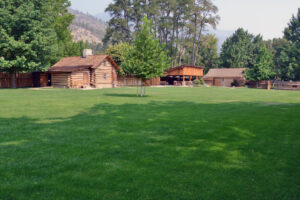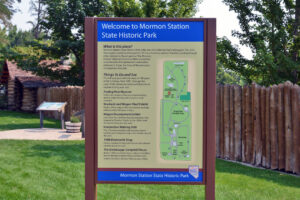 Articles & Resources
Sources
The bulk of the information on this page should be credited to the interpretive sign and panels at Mormon Station State Historic Park.