Brigham Young Haydenville, NY Residence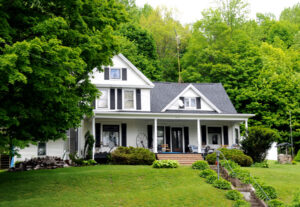 In 1823 Brigham Young moved from Auburn to Bucksville (now called Port Byron) in Aurelius Township, Cayuga County, NY. This site would soon become an important stop on the Erie Canal. In that area, Brigham served several employers working with furniture and canal boats. His went to work for Charles Parks in a shop about a mile and a half south of Port Byron. It was there that he met Miriam Angeline Works, an eighteen-year-old young woman with blonde hair and blue eyes. Brigham and Miriam were married in October 1824. It is thought that the first home they ever lived in as a married couple was the extant home seen above in Haydenville, NY.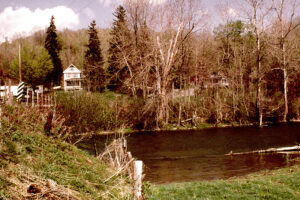 That home, situated near the banks of the Owasco Outlet Canal, has since been remodeled and greatly enlarged. A photograph (left) shows the home before the lower, wide portion on the south was added. Brigham and Miriam did not stay in the Haydenville home very long; it was likely a matter of weeks.  They soon moved to nearby Port Byron and lived in a home there for four years.
There is a well visible on the property just south of the house. Tradition holds that this well was dug and lined by Brigham Young, about the time he was married. After identifying the specific site for the well, he spent several hours a night after work, for a number of weeks, laboring on this project. The current owner of the house affirms this. Moreover, a published memoir written in an article by William Hayden supports this tradition. William Hayden was the man for whom Haydenville was named. The current residents of the house still use water drawn from that well.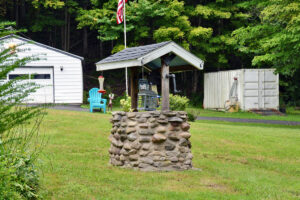 Map and Directions
The formal address of the Haydenville house is: Hayden Road and NY-38, Mentz, NY 13140.
Ownership Status
The house at Haydenville, NY where Brigham and Miriam Young first lived as a married couple is privately owned and not open for tours. Those wishing to see the house are asked to respect the privacy of the owners and remain outside of the property boundaries.
Photos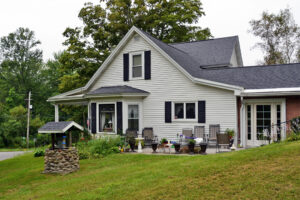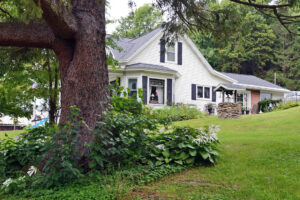 Articles & Resources
Resources
Leonard J. Arrington, Brigham Young, American Moses, 14-15; footnote 35, page 436.
William Hayden, The Auburn Bulletin, February 17, 1904. Richard Lambert, vice chairman of the Ensign Peak Foundation, found the article and has an electronic copy of the actual issue. Arrington lists a second reference to Hayden's memoirs as Deseret News for 20 December 1913.