The Mormon Battalion in Tucson, AZ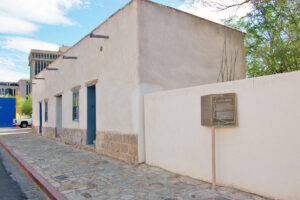 Heading northwest from the San Pedro River, the Mormon Battalion approached the Presidio at the Mexican outpost of Tucson, now in Arizona, on or about 16 December 1846.
They had learned there was a garrison of some 200 men stationed at Tucson, so battalion commander Lt. Col. Philip St. George Cooke had the men prepare for the possibility of combat.
However, Cooke sent word to Mexican leaders indicating it was his desire to avoid any confrontation since his primary objective was to get to California as quickly as possible.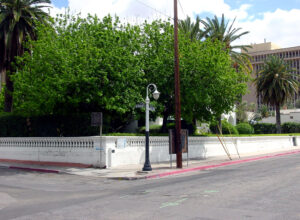 Nearing Tucson, the battalion learned the post had been evacuated. The Mexican troops and most of the other inhabitants had fled, allowing battalion members to get some water, rest and food.
Cooke assured the few remaining residents that the battalion would preserve the town and property as it passed through. Battalion members were grateful that Tucson "fell without the loss of blood."
A monument commemorating the time when the battalion passed through Tucson was commissioned by the Tucson Mormon Battalion Monument Foundation. "The monument is a 2-ton, 19-foot-tall bronze statue of battalion members Christopher Layton and Jefferson Hunt raising the U.S. flag and engaging in peaceful trade with Teodoro Ramirez, a prominent Tucson merchant." The artist was Clyde Ross Morgan. The monument was presented to the city of Tucson following its dedication on December 14, 1996, the sesquicentennial of the event, by President Gordon B. Hinckley of The Church of Jesus Christ of Latter-day Saints.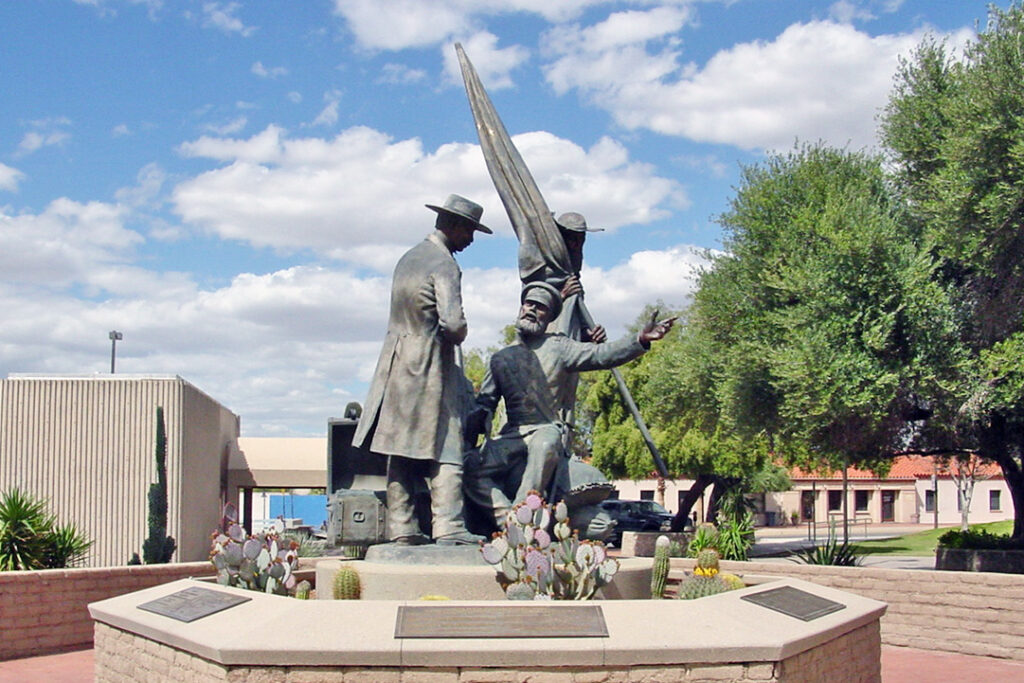 Another monument to the Mormon Battalion is found in Armory Park, Tucson. It was placed there in 1937 by The Church of Jesus Christ of Latter-day Saints (see photo below).
Map and Directions
The monument commemorating the time when the Mormon Battalion passed through Tucson is located in El Presidio Plaza, 165 W Alameda St, Tucson, AZ 85701.
Ownership Status
El Presidio Plaza, where the Tucson monument to the Mormon Battalion is located is a public space, open to all. There is no charge to visit and view the monument.
Photos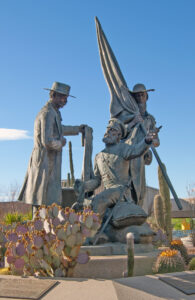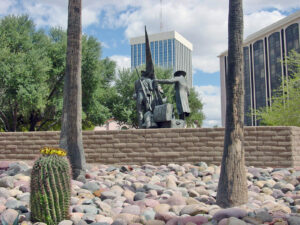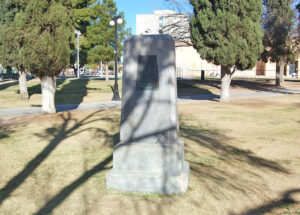 Articles & Resources
Resources and References
Sherman L. Fleek, History May Be Searched in Vain: A Military History of the Mormon Battalion, 285-293.
Norma Baldwin Ricketts, The Mormon Battalion: U. S. Army of the West, 1846-1848, 96-100.
David L. Bigler and Will Bagley, eds., Army of Israel: Mormon Battalion Narratives, 160-162.
Michael N. Landon and Brandon J. Metcalf, The Remarkable Journey of the Mormon Battalion, 59-60.
https://www.mormonbattaliontucson.com/the-exchange-at-tucson
https://www.churchofjesuschrist.org/study/ensign/1997/03/news-of-the-church/president-hinckley-dedicates-mormon-battalion-monument?lang=eng