Wagon Mound National Historic Landmark, NM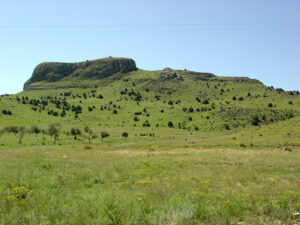 On October 4, 1846, while following the Santa Fe Trail during the first part of their journey, members of the Mormon Battalion camped in Mora County, New Mexico. The site is named for a geological feature called the Wagon Mound. This butte was a landmark for covered wagons and traders following the Santa Fe Trail.
It is called Wagon Mound because, using a little imagination, one can picture a covered wagon being pulled by a team. It was referred to as the last major landmark on the Cimarron cutoff on the Santa Fe Trail. The Cimarron and Mountain routes merge just south of Wagon Mound.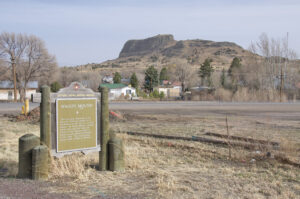 A small village of the same name is situated near the mound. Accounts note that the battalion arrived at Wagon Mound Oct. 4, 1846. Because of good water and grass for the animals, some called this site the Valley of Hope. The site is now known as Wagon Mound National Historic Monument. A small village of the same name is nestled at the foot of the butte. It can be seen from I-25 which runs just west of the Wagon Mound site.
Map and Directions
From I-25 in Mora County, NM, take exit 387 and stay on the east side of the freeway. The interpretive panel is right there.
Ownership Status
The butte known as Wagon Mound is situated in the Wagon Mound National Historic Landmark and is therefore subject to NPS regulations.
Photos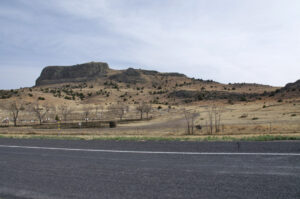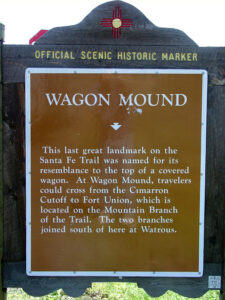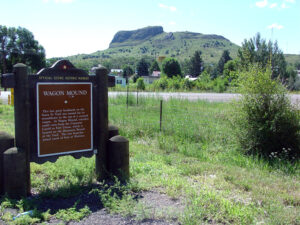 Articles & Resources
Articles and Resources
Norma Baldwin Ricketts, The Mormon Battalion: U. S. Army of the West, 1846-1848, 61.
David L. Bigler and Will Bagley, eds., Army of Israel: Mormon Battalion Narratives, 127.