Mormon Battalion Monument, New Mexico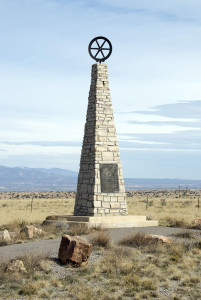 Following a few days at Santa Fe, New Mexico (October 9-18, 1846), the Mormon Battalion resumed their march toward the Pacific Ocean. Now, however, there was no longer a Santa Fe Trail to follow. Under the command of their new leader, Col. Philip St. George Cook, they now had to blaze their own trail through basically uncharted wilderness. It was near present-day Albuquerque, New Mexico that the Battalion began following the Rio Grande which runs out of Colorado heading south. The monument seen here is situated near that site. This twenty-foot monument with a wagon wheel at the top, once stood southwest of Albuquerque, New Mexico. Several decades ago, it was taken down and stored when U.S. highway 85 became I-25. It was subsequently reassembled on its present site which is located just off I-25 between the cities of Albuquerque and Santa Fe.
The plaque on the monument shows a map of the Battalion route from Council Point, Iowa to the west coast. Below it is a stirring citation from Col. Philip St. George Cook detailing the hardships and sufferings that the battalion experienced. It concludes with the words, "Thus, marching half naked and fed, and living upon wild animals, we have discovered and made a road of great value to our country."
Map & Directions
This marker is reached by taking I-25 between Albuquerque and Santa Fe, New Mexico. Take exit 257 for Budaghers (site of a 1950s trading post) and follow the W Frontage Road south toward Albuquerque. You will soon arrive at a parking lot for the monument, which is easily seen. The gps coordinates are: 35°27'04.46″ N; 106°21'14.54″ W.
Ownership Status
The monument dedicated to the Mormon Battalion near Albuquerque, New Mexico is situated on public land. There are no restrictions to any who wish to visit the site.
Photos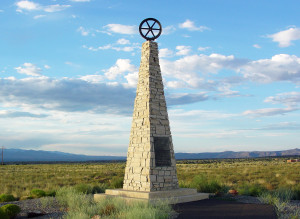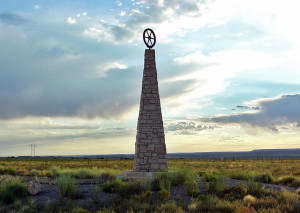 Articles & Resources
Resources
Stanley B. Kimball, Historic Sites and Markers Along the Mormon and Other Great Western Trails, 212.
Brandon S. Plewe, et al., Mapping Mormonisn: An Atlas of Latter-day Saint History, 78-79.
Michael N. Landon and Brandon J. Metcalf, The Remarkable Journey of the Mormon Battalion, 49-51.