Chimney Rock, Morrill County, Nebraska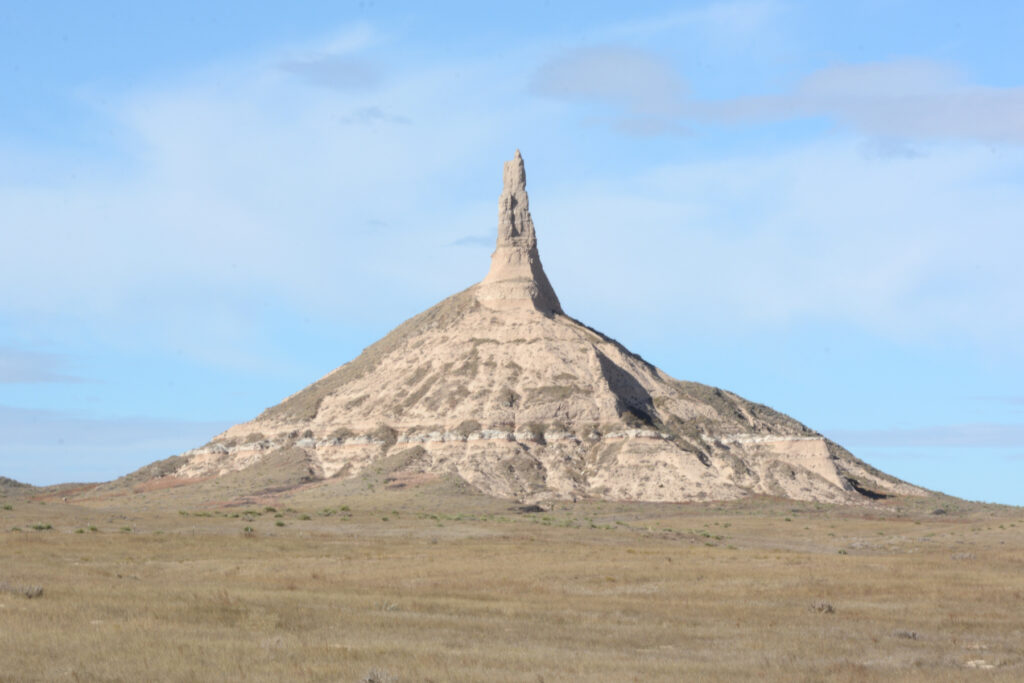 In the mid-1800s, hundreds of thousands of pioneers followed the Oregon, Mormon, California and Pony Express trails. As they crossed what is now Morrill County in western Nebraska, they observed a natural geological feature that became arguably the most recognizable landmark on the trail: Chimney Rock.
The U.S. National Park Service notes on its website at nps.gov that an examination of hundreds of pioneer journals reveals that no natural geological features were mentioned more than Chimney Rock.
Travelers belonging to The Church of Jesus Christ of Latter-day Saints were among those who mentioned Chimney Rock as they passed by. William Clayton, traveling with President Brigham Young and the pioneer camp, wrote that the feature "reminded him of factory chimneys in England."
Latter-day Saint Horace K. Whitney articulated the following with reference to Chimney Rock and other massive rock formations in the area: "The scene to us was truly one of magnificence and grandeur and almost baffles description."
Chimney Rock was visible to pioneers on the Oregon and Mormon Pioneer Trails for three to four days before they reached it. A number of Latter-day Saints made sketches of Chimney Rock in their journals.
Brigham Young and his company camped near Chimney Rock on May 25, 1847, and actually passed it the next day. They considered it to be the landmark identifying the point where they were "half way to Zion."
Map and Address
Address: 9822 County Rd 75, Bayard, NE 69334
Seasonal Hours May 1 – September 30:
Open Every Day: 9 am – 4 pm
Off-seasonal Hours Oct 1 – Apr 30:
Friday – Saturday:  9 am – 4 pm
Admission:
Adults (19 and over): $8
Children (5-18): $4
Young Children (4 & under): Free
Ownership Status
Chimney Rock can be seen from multiple sites, both public and private. The best was to see and learn about Chimney is to visit the Chimney Rock Museum and visitors' center. This facility is overseen and maintained by History Nebraska, an independent Nebraska state agency. The site offers parking and wonderful views of Chimney Rock, even if the museum is closed.
Photos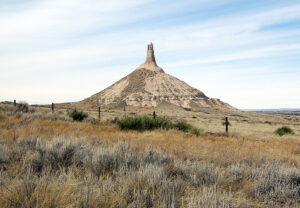 Articles & Resources