Land and Records Office, Nauvoo, Illinois
Located at the northwest corner of Parley and Partridge Streets in Nauvoo, Illinois is the Land and Records Office. This facility allows one to find out "who lived where" in Nauvoo during the early-mid 1840s. The office has been of particular value to those who descend from the Latter-day Saint settlers who lived in Nauvoo. Utilizing information about subdivision lots, tract lands and streets, it allows them to go to the actual site where their ancestors lived in this historic place. Records from roughly 1839-1845 for both Hancock County, Illinois and Lee County, Iowa are housed in the Records Office. Additionally, there are some genealogical, ordinance data, and biographical resources available to interested visitors. Other miscellaneous documents and reference materials, including information from other area churches, have been gathered by Nauvoo missionaries.
Ownership Status
The Land and Records Research Center is owned, staffed and maintained by The Church of Jesus Christ of Latter-day Saints. The center is opened to interested persons during select hours. There is no fee charged for any of their services. It is often helpful to contact the center well in advance of a visit to allow time for them to gather materials that may be helpful to patrons. The telephone number is 217-453-2733.
Map & Directions
Once in Nauvoo, those wanting to visit the Land and Records Office should go to the northeast corner of the intersection of Parley and Partridge Streets. This is found down by the Mississippi River in the older section of Nauvoo known as the Flats. The gps coordinates are: 40°32'35.88″ N; 91°23'17.56″ W.
Photos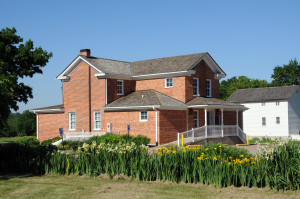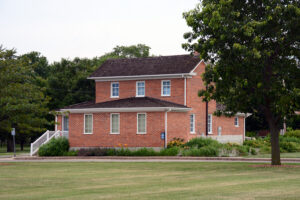 Articles & Resources
Sources
Keith W. Perkins and Donald Q. Cannon, in LaMar C. Berrett, ed., Sacred Places, Vol. 3, 125.