Torleif Knaphus Sculpture, Coralville, Iowa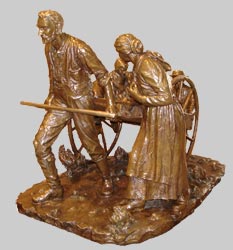 The Mormon Historic Site Foundation erected a replica of the Torleif Knaphus handcart sculpture in Coralville, Iowa near Iowa City at the local Marriot Hotel. The sculpture, shown at the right, depicts a handcart pioneer family crossing the plains. A similar sculpture can be found on Temple Square in Salt Lake City, Utah.
The sculpture was unveiled on September 2, 2006 in conjunction with a handcart exhibit being opened at the Johnson County Historical Society across the street.
Photos
Articles & Resources
Iowa City: birthplace of handcart venture
Author(s): R. Scott Lloyd
Published in: LDS Church News
Publication Date: June 17, 2006
Published June 17, 2006. Reprinted with permission from the LDS Church News published by the Deseret Morning News
Iowa City: birthplace of handcart venture
Mormon Trek Boulevard, park are part of the locale's self-identity
R. Scott Lloyd, Church News staff writer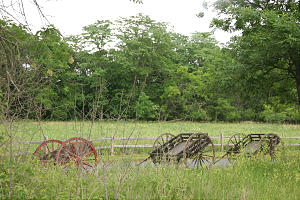 IOWA CITY, Iowa By virtue of being the farthest railroad stop to the west in 1856, Iowa City gained the distinction in Church and American history as being the birthplace of the Mormon handcart venture.
While that is unlikely to have meant much to townspeople of the time, today it is very much a part of Iowa City's self-identity.
A major north-south street connecting the city with the adjoining suburb Coralville is named Mormon Trek Boulevard.
"I think probably full respectability and significance of the handcart pioneers was realized in 1936 by a memorial that was put up in Coralville, not by the Mormons but by the Daughters of the American Revolution," said Jeff Schabilion, professor of biological sciences at the University of Iowa at the Mormon Handcart Trek Symposium in Iowa City June 9.
The marker, a large granite boulder with a bronze plaque honoring the handcart pioneers, stands today at Coralville's St. Morrison Park north of the pioneer campground on Clear Creek. Attending the Dec. 17, 1936, dedication ceremony as a representative of the Church was President Bryant S. Hinckley of the Northern States Mission, father of President Gordon B. Hinckley. It was held in Iowa City's Old Capitol. The earlier President Hinckley "expressed the gratitude of all the people of the Church for the tribute paid in such noble fashion to the courage, faith and heroism of our pioneer forebears."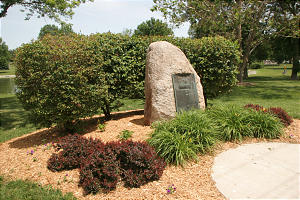 In 1967, a group of residents in Iowa City and Coralville established the Mormon Trek Memorial Foundation, which has since broadened its focus and become the Johnson County Historical Society. That same year, Iowa City artist Cloy Kent painted an image of a handcart pioneer family, based on the famous Torleif Knaphus bronze sculpture on Temple Square in Salt Lake City.
According to Dr. Schabilion, Sister Kent's painting became locally famous in its own right, as it was used on various brochures. It hangs today in a Church meetinghouse in Iowa City. It was featured in the May 12 Church News accompanying an article about the upcoming celebration in Iowa City.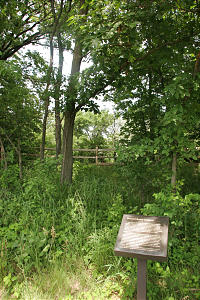 The genesis of what would become Mormon Handcart Park in Coralville was in 1975. Dr. Schabilion said a fellow University of Iowa faculty member, Donald Doty, viewed the area of the early handcart campsite, which today is on university-owned land. "It was Dr. Doty's idea that this rather pristine area should be set aside because of its historical significance."
Dr. Schabilion, chairman of the campus planning committee, got behind the idea, and a proposal was written that the university make the land available and the Church provide the funding to develop and maintain the site. It was decided that the project have a dual purpose of a memorial park and a nature preserve. What has resulted is today a placid park of asphalt trails winding through native prairie grass and wildflowers, with informational markers telling the story of the handcart pioneers.
The city continues to honor its heritage of hosting the handcart pioneers. Funds are currently being raised for the erection of a replica of the Knaphus sculpture at a Marriott Hotel that will be constructed beginning in August, this under the auspices of the Salt Lake City-based Mormon Historic Sites Foundation (www.mormonhistoricsites.org).
Across the street from the hotel, the Johnson County Historical Society is erecting a new museum, which will open in September. A centerpiece of the museum will be a full-size diorama depicting a handcart pioneer family. Society executive director Margaret Wieting said that making the diorama a permanent part of the new museum in this sesquicentennial year pays tribute to the organization's founding as the Mormon Trek Foundation in 1967. Funding for the $12,000 diorama is coming from efforts by the historical society, the Mormon Historic Sites Foundation and local Church members.
Pres. Hinckley to honor handcart pioneers
Author(s): Carrie A. Moore
Published in: Deseret Morning News
Publication Date: June 9, 2006
Faith & Fate
Author(s): Drew Kerr
Published in: The Gazette
Publication Date: June 4, 2006
Published June 4, 2006. Reprinted with permission from The Gazette, Cedar Rapids, Iowa.
Faith & Fate
150 years ago some Mormons started trek from Iowa
Drew Kerr, The Gazette
IOWA CITY — Megan Fuja, whose great-great-grandfather John Watkins was a bugle player on the Mormon Trek of 1846 and 1847, had no idea of the role Iowa City played in that history until a new job pulled her here.
She learned, though, at Iowa City's Mormon Handcart Park.
Now, as the 150th anniversary of the Mormon handcart pioneers' departure from Iowa City approaches, she finds herself as one of numerous locals determined to reinvigorate the local link to the past.
"I saw the park and said, 'Oh, my goodness,' " said Fuja, chairwoman of the Iowa City Handcart Commemoration Committee. "It's great because, as with any place where you know people have been seeking some sort of freedom, it always leaves behind a special spirit to it."
The park, on the west side of the University of Iowa campus adjacent to the apartments at Hawkeye Court, is just part of the story. The trek sent oft-persecuted church members on a dangerous hike to a promised Zion in Salt Lake City.
Fuja hopes a sesquicentennial celebration here Friday through Sunday, June 11, emboldens efforts to increase the visibility of the Mormon culture.
Included in that are plans to record oral histories of ancestors and a nearly $12,000 diorama showcasing a handcart replicated so closely that even nails were shunned in favor of the hollowed-out peg design used in the late 1800s.
The diorama, to be unveiled in September, will land in the soon-to-be permanent home of the Johnson County Historical Society. That group began, without a single Mormon, in 1967 as the Mormon Trek Memorial Foundation.
"It's just one of those wonderful stories that we want to tell," Margaret Wieting, the group's executive director, said.
The handcart – a man-powered sort of wheelbarrow – has what historians call legendary significance in Iowa City. Nearly 3,000 westward mobile emigrants in 10 brigades lost the luxury of train traveling between 1856 and 1860 because the train tracks ended in Iowa City.
Largely from England, the group represented fewer than 5 percent of Mormons going west, said Fred Woods, executive director of the Mormon Historic Sites Foundation. He is a Brigham Young University professor helping to organize efforts in Iowa. "It's a very small thing in the whole American experience, but I assure you the Mormons don't forget it," said Woods, who will talk about that during a commemoration that is planned.
The church's emigration fund had been depleted 150 years ago. Cash-strapped members of The Church of Jesus Christ of Latter-day Saints spent weeks camping near Clear Creek and waited for handcart supplies.
A handful of local companies then pieced together the cumbersome hickory or oak carts and started on June 9, 1856, to manually pull them 1,300 miles across the plains. The roughly 3-foot by 4-foot design – with a single axle, wooden wheels and usually a covering – was proposed by then-church president Brigham Young to slice transportation costs.
Traveling to Utah with a handcart required around $975 in today's money, compared with the $7,000 to $12,000 to outfit a wagon and feed oxen, Woods said.
"The only reason they were doing this is because it was the cheapest way to go at the time," he said. "They were willing to forsake it all for the Gospel."
To ease the burden of manually dragging the 200-pound carts, adults got 17 pounds of rations, while children were allotted just 10 pounds. Often provisions were left on the trail to further relieve the stress of pushing and pulling.
The idea proved to be both ingenious and foolhardy. Historians point out that some 220 people died when two companies – Martin and Willie – had a delayed exit and froze in the bitter cold of Wyoming.
Traveling in a group of more than 900 people and 233 handcarts, those who didn't die lost limbs to frostbite before being rescued.
"Overall, the system worked," said William Hartley, a BYU researcher who will speak at a symposium at the Iowa Memorial Union that coincides with the festivities. "But there were, of course, some tragedies."
Despite the hardships, Hartley said the church's pledge to take all those who wanted to go was a driving force.
"The concern for moving all the poor was quite enormous," he said.
Today, the church headquarters are in Salt Lake City. The temple those pioneer church members built has become Utah's largest tourist attraction.
Contact the writer: (319) 339-3162 or drew.kerr@gazettecommunications.com
Mormon Handcart Trek Sesquicentennial
Friday
7:30 a.m.: Opening ceremonies, Mormon Handcart Park
8:30 a.m. to 4:30 p.m.: Handcart Trek Symposium, Second Floor Ballroom, Iowa Memorial Union
Saturday
10 a.m. to 3 p.m.: Handcart Pioneer Festival, Mormon Handcart Park5 p.m. to 6:30 p.m.: Handcart Pioneer Commemorative Program, Iowa City Stake Center, 570 Dublin Dr.
Sunday, June 11
9 a.m. to 10 a.m.: Interfaith devotional, Second Floor Ballroom, Iowa Memorial Union
7 p.m. to 8:30 p.m.: Closing ceremony, Hancher Auditorium (tickets required).
On the Net
See more about the celebration at www.handcartpioneer.com
Celebrations recall handcart pioneer era
Author(s): R. Scott Lloyd
Published in: LDS Church News
Publication Date: May 20, 2006
Published May 20, 2006. Reprinted with permission from the LDS Church News published by the Deseret Morning News.
Celebrations recall handcart pioneer era
Iowa City, Iowa, and Kearney, Neb., to observe landmark anniversary
R. Scott Lloyd, Church News staff writer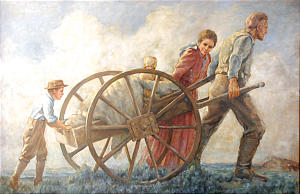 One hundred fifty years ago this year, the Church inaugurated what was then a revolutionary means of overland travel for moving converts to the Salt Lake Valley, and the brief but famous handcart-pioneer era began. Two cities with connections to Mormon pioneer history Iowa City, Iowa, and Kearney, Neb. are observing this landmark anniversary with major celebrations early in June.
Both celebrations are free to the public and are Church-supported but not Church-sponsored.
In Iowa City, where the first handcarts companies embarked in 1856, the celebration will transpire the weekend of June 9-11, the exact dates when the handcart companies left 150 years ago. It will culminate with a closing fireside at 6 p.m. Sunday, June 11.
The celebration kicks off at 7:30 a.m. Friday with opening ceremonies for a youth handcart trek, followed by a daylong symposium at the University of Iowa Memorial Union. Among presenters at the symposium are William Hartley, BYU professor and trail historian; Loren Horton, senior historian emeritus of the Iowa State Historical Society; and Fred Woods, BYU professor and executive director of the Mormon Historic Sites Foundation.
A "Mormon Handcart Pioneer Festival" on Saturday at the University of Iowa will feature "Nauvoo on the Road" activities and demonstrations from historic Nauvoo, Ill.
A commemorative program that evening will feature Paul Willie, a direct descendant of Captain James Willie, whose handcart company is famous for the tragedy and suffering it endured in Wyoming en route to Salt Lake City. A video presentation on loan from the Church's Martin's Cove Historic Site visitors center in Wyoming will be shown.
In addition to the closing fireside, another Sunday event will be an interfaith devotional at 9 a.m. at the University of Iowa's Hancher Auditorium.
Other events have occurred and will occur in Iowa City in connection with the sesquicentennial, said Kaye Wierda, Iowa City Stake public affairs director. Service projects by Church members have included assisting members of Elder Services Inc., which assists 50 elderly homeowners every spring and fall through local volunteers. In April, four wards of the Church provided some 3,000 work hours one for each handcart pioneer delivering food, assisting with a charity carnival, and making items for patients at hospitals and clinics.
And in September, the Johnson County Historical Society in nearby Coralville, Iowa, will be placing a life-size, three-dimensional diorama of a handcart pioneer family at the society's museum. Iowa City is conveniently located on Interstate 80 at the I-380-Highway 218 junction. Nauvoo is just and hour and a half to the south.
Kearney, Neb., also located on Interstate 80, midway between Nauvoo and Salt Lake City, is the site where the Mormon, Oregon and California Trails converge. By the time the handcart companies reached Kearney, they had merged with the original 1847 Mormon Trail; hence Kearney's hosting of its own handcart sesquicentennial observance on June 2 and 3, the weekend before the commemoration in Iowa City.
A central feature of Kearney is the $60 million Great Platte River Road Archway Monument, a unique museum and multi-media exhibit center that spans the interstate highway. Among its attractions are exhibits about the Mormon Trail and the handcarts. The monument and its education director, Ronnie O'Brien have been key organizers of the handcart sesquicentennial event in Kearney. (Please see Church News centerspread in Feb. 25, 2006, issue.)
"This is a community event," emphasized Joseph Carlson, a Kearney Nebraska Stake high councilor and event organizer. "There is only a very small number of LDS people in our entire geographical area. Our handcart celebration is free to the public, and we are on the actual trail just north of historic Fort Kearny. This is a historic event where people can learn and actually live some of the history by pulling handcarts. Those who desire, we encourage to come wearing pioneer-type clothing."
Brother Carlson noted that the celebration will have 41 handcarts, the largest number assembled in one place in Nebraska since the 1800s. Among them will be one of only three known original handcarts, he said.
A variety of handcart treks of one-half, one, four and five miles will be available; visitors may participate in behalf of one of their ancestors. Paul Willie, the descendant mentioned above of Captain James Willie, will be leading the five-mile trek.
A Candlelight Tour on Friday evening will feature brief one-act plays or vignettes of true stories that happened along the handcart trail.
"Our living-history camping area will have about 24 white canvas tents of the period," he said, "with people from Nevada, Idaho and Nebraska, living as though they were pioneers on the trail. They will be doing constant day-to-day things while in camp. This is a complete educational experience in itself.
Brother Carlson added: "We have storytellers, musicians and entertainers from over seven states all coming and performing without pay. They are all doing this to help keep the memory of the handcart pioneers alive."
For more information on the Kearney celebration, access the Web site at www.handcarttrek.org, where one may register to participate in one of the handcart treks.
More information on the Iowa City celebration is at www.handcartpioneer.com.
E-mail to: rscott@desnews.com